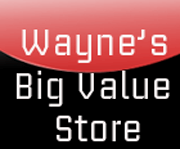 (PRWEB) January 16, 2014
Wayne Sumpman is excited to announce the creation and launch of his new website venture, http://www.WaynesBigValueStore.com. The website offers a multitude of products related to home and outdoor décor ranging from indoor furniture to garden decorations like fountains and planters. Sumpman wanted to offer items that most households would want to buy and hoped to cover a wide range of individuals by featuring products on his website that could be used in any home.
There are many excellent products that are featured within the merchandise of WaynesBigValueStore.com. Some of the items offered on the website include furniture, kitchen products, candles, lamps, outdoor fountains, birdhouses, planters, and many more items that are great for decorating both indoors and outdoors. Sumpman plans to further expand the product lines that are offered on the website in the future. By periodically updating the site's merchandise, he hopes to encourage customers to keep coming back to the website to check out what new items have been added.
Customer service is something that is of the utmost importance to Sumpman regarding each and every transaction made on WaynesBigValueStore.com. It is very important to him that products are offered at reasonable prices and that he is available for customers to contact if they wish to offer any feedback or if they have any questions about the products available for purchase on the website.
To complement the main website, Sumpman is also launching a blog located at http://www.EverythingHomeDecorBlog.com. The blog will feature topics related to the different products that are prominently featured in the online store. One of the primary goals of the blog is to help guide potential customers towards making informed decisions when purchasing products from the main website.
About the Company:
WaynesBigValueStore.com -- a division of WCS Enterprises -- is owned and operated by Web entrepreneur Wayne Sumpman.
****
Wayne Sumpman
http://www.WaynesBigValueStore.com
(412) 915-9570
iePlexus, Inc.
http://www.iePlexus.com