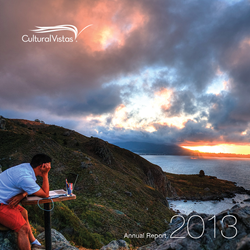 New York (PRWEB) May 23, 2014
Cultural Vistas today announced the release of its Annual Report for fiscal year 2013, celebrating the major accomplishments of last year and reflecting on the significant growth it has achieved in its three years following a nonprofit merger.
In addition to the 30-page report, Cultural Vistas also has unveiled its responsive online version of its annual report, accessible at WeAreCulturalVistas.org. The website was built and designed in-house. It features a fully responsive design in order to provide visitors with a seamless and consistent experience across desktop, tablet and mobile devices.
A nonprofit 501(c)(3) organization, Cultural Vistas annually serves more than 5,000 students, professionals, and emerging leaders through career-focused internships, educational study tours, language immersion and cultural exchange programs in the United States and around the world.
Over the past three years, sustained revenue growth has increased Cultural Vistas' capacity to inspire personal and professional development and build understanding through international exchange with corresponding increases in budget and staff size, infrastructure, and the diversity of its programs and funding streams.

In the past three years, Cultural Vistas programs have experienced nearly 35 percent growth in participants, while the number of full-time staff has increased by 42 percent and the organization's annual revenue has grown by 72 percent up to $15.2 million in fiscal year 2013.
Since its formation, a total of 15,252 students and professionals from more than 140 countries have participated in Cultural Vistas exchange programs.
For the year ending December 31, 2013, Cultural Vistas spent 87 percent of its budget on mission-based programs and services, and only 13 percent on administrative and support services.
Cultural Vistas established its first overseas subsidiary with a European office based in Berlin in 2013.
Cultural Vistas, as a tax-exempt nonprofit organization, annually files a Form 990 with the Internal Revenue Service to provide information to the public on the organization's finances, public support, and activities. A complete audited financial summary of its operations is available at WeAreCulturalVistas.org.
About Cultural Vistas
A nonprofit organization, Cultural Vistas is committed to its mission is to enrich minds, advance global skills, build careers, and connect lives through international exchange. – Learn more at culturalvistas.org.