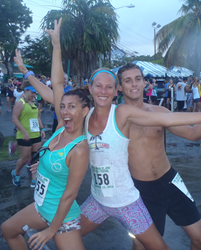 Plan ahead for the 19th annual #8Tuff Race, February 28th, 2015.
St. John, US Virgin Islands (PRWEB) February 24, 2014
Resilient runners ravaged the rain yesterday to support St. John Rescue in the 18th annual 8 Tuff Miles island foot race.
No dampened spirits among the 1,101 visitors and residents who completed the race, with Jessica Rice, 38, from Needham, MA setting a new female record of 56:04. Rick Pahl, 30 from Muscatine, IA took the proud title for the Men's overall division crossing the finish line in just 51:04. Current record holder David Riddle (45:46) and 5-time winner and St. John resident Jeremy Zuber, were not in attendance.
While limiting an increasing number of entrants each year, race organizer Peter Alter has slowly developed a top event for the small island.
Thanks to land donations by Laurence Rockefeller in 1954, the island of St. John, just 24 square miles, is today mostly national park. Protected from future development and preserved for generations to come, St. John's white sand beaches and well maintained hiking trails attract vacationers from across the world.
About Windspree Vacation Homes
For over 30 years, Windspree Vacation Homes has rented and managed vacation villas in and around Coral Bay, St. John. Coral Bay is a small peaceful hamlet on St. John island's east side and convenient to the Virgin Islands National Park, where many of St. John's best beaches and hiking trails are located.