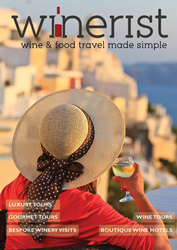 Wine & food travel is becoming a holiday type in itself and is no longer just a one day experience. 72% our respondents have been more than 3 times on a wine or culinary trip and 39% go for more than a week.
London (PRWEB UK) 31 March 2014
One year into the launch of its booking platform, Winerist publishes survey which shows that wine & food travel is only likely to get bigger in 2014. Click here for the full results infographic.
The survey, conducted amongst travellers across the globe, reveals that 65% of tourists have already been on a wine & food trip and 72% have been on wine trips 3 times or more.
Extremely obvious is the need for the tour activity industry to come online, with 76% of the tourists booking online and 34% using Social Media channels for research purposes. One of the most exciting outcomes of this survey is that up to 51% will book activities on the spot. This makes Winerist's job even more relevant as there is an evident need for a marketplace which connects local experts and experience providers with the traveller seeking authentic, off the beaten track stays and activities.
The Winerist Survey reveals some interesting facts for wine industry players too. With as many as 88% of tourists buying wine during wine trips, this shows the need for wineries to turn to revolutionary platforms like Winerist. Vineyards can benefit from exposure as well as tourism activities with Winerist's clients eager to travel to buy local, authentic wines.
Winerist is the fastest growing online marketplace for wine & food travel experiences which helps tourists find & book authentic trips in over 50 destinations around the world. See some of our most popular tours, boutique wine hotels and wineries in our newly launched online magazine.