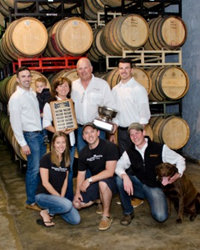 It's a great award that will help show people how serious we are about our wine making.
Mullica Hill, New Jersey (PRWEB) June 03, 2014
The first strike was in 2011 when they were crowned Winery of the Year and then again over the Memorial Day Weekend, the prestigious honor was once again awarded to Heritage Winery. Not only did they collect twenty-one (21) medals at the May 24th New Jersey Wine Competition, they were awarded "Winery of the Year 2014" making them New Jersey's top rated winery. This competition is the only major wine competition for New Jersey wines which is sponsored by Rutgers Cooperative Extension, the Garden State Wine Growers Association, the New Jersey Department of Agriculture and the New Jersey Wine Advisory Council.
Professional judging for the 2014 New Jersey Wine Competition took place at the Blues and Wine Festival at Natirar Park in Peapack-Gladstone. The judging panel consisted of representatives from the Society of Wine Educators, the wine press, American wine society, certified wine judges and distributors. Wines were blind tasted in flights based on wine type and awarded points. The contest judged almost 300 different wines from 29 New Jersey Wineries.
Every wine that Heritage Vineyard's submitted won a medal, not an easy task for this family owned and operated winery. The following wines were awarded with the Gold Medal; Painted Horse, Cabernet Sauvignon, Late Harvest Chamberson and the Jersey Blueberry. Wines awarded the Silver Medal were as follows; Rose Dry, Chambourcin, Chenin Blanc, Merlot, Chardonnay, BDX, Syrah and the Jersey Peach. The Bronze Medal went to these outstanding wines; Sugar Plum, Jersey Red, Cab Franc, Cuvee Rouge, Jersey White, Cuvee Chardonnay, Sauvignon Blanc, Jersey Blush and the Jersey Moscato.
Upon learning the results from the competition, owners Bill and his wife Penni Heritage had this say, "Our hard work and perseverance has started to pay off. To win Winery of the Year is an immense honor, it's validation for the daily hard work in the both the vineyard and the winery." Bill Heritage continued, "It is truly a team effort and we accept this honor on behalf of all our employees. Their enthusiasm and dedication to producing quality wine and providing a memorable experience to all of our visitors on a daily basis is recognized in this win."
A special tribute was given to Heritage Vineyard's winemaker, Sean Comninos. At the age of 30, he is producing exceptional wines and stellar quality across the entire Heritage wine portfolio. Sean grew up in Glassboro, NJ and is a graduate of the Philadelphia Wine School.
Heritage Vineyard's award-winning wines are available locally, can be shipped and also via their new Wine Club program. Guests are encouraged to sample them by personally visiting the winery's tasting room, located at 480 Mullica Hill Rd. Mullica Hill, NJ 08062. To learn more, visit http://www.heritagewineNJ.com.
About Heritage Winery
Heritage Vineyards lies in the heart of Gloucester County's rich agriculture region. The Heritage family has been farming their property, 130 acres, since 1853, growing peaches and apples. In 1999, the 5th generation farmer, Bill and his wife Penni decided it was time for change as the peach and apple market in South Jersey rapidly deteriorated. In a desperate attempt to save the family farm from bankruptcy, Bill and Penni planted wine grapes and began a new endeavor. There have been various ups and downs during their transition to vineyard and building a winery, but since they took the leap, the Heritage's have continued to marry tradition with modern technology and art with innovation to produce award-winning wines.
To receive Heritage Vineyards Wine Samples or Book a PRESS Specialty Tour please call Stacy McGuigan at 856-381-8850. The owners; Bill, Penni and their sons and 6th generation, Richard and Erik Heritage are available for interviews upon request. Images of the winery are also available upon request.