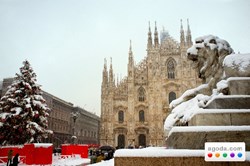 Winter is a great time for a break in Milan, Italy's northern culture capital. With fashion shows, museums, churches, and world-class skiing just a short train ride away, you'll wish the winter weather stuck around a bit longer.
Singapore (PRWEB) January 08, 2014
Agoda.com, Asia's leading hotel booking site and part of Nasdaq-listed Priceline Group (Nasdaq:PCLN), has made a list of amazing hotels in Milan, Italy that are perfect for a winter holiday in a city known throughout the world as a hub of global fashion and Italian culture.
Among Italy's many great cities, Milan stands out as one of the most dynamic. As the country's second-largest after Rome, Milan is also known as a major cultural center, and a hub for industry, transport, and finance. In winter, the temperature averages just above freezing, which is not terribly cold, but cool enough to ensure a nice winter chill and snow-covered peaks nearby, which are great for skiing. Milan has plenty of indoor attractions as well, ensuring that plenty of sightseeing can be done away from the winter weather.
Among these are Milan's many famous museums, including the Pinacoteca di Brera and its world-class collection of Italian paintings; the Sforzesco Castle with Michaelangelo's final sculpture Rondanini Pietà; and the Santa Maria delle Grazie, a UNESCO World Heritage Site that also houses Leonardo da Vinci's Last Supper. Milan's beautiful architecture, too numerous to mention in its entirety here, deserves a mention as well. Standouts include the Duomo di Milano, a stunning Gothic cathedral with room for 40,000 people that took 600 years to finish; and the Cimitero Monumentale, which many name as the world's most beautiful cemetery.
If you want to get out of town for a few days and carve up the powder on skis or a snowboard, there are over 150 resorts within 3 hours of the city. The magnificent Aosta Valley to the west is home to several famous ski centers, such as Courmayeur, La Thuile, and Gressoney, while to the north and northeast other favorites include Foppolo and Carona, with others dotted around Lake Como and the rest of Milan's alpine surroundings.
And of course, what would Milan be without a nod to its legendary reputation for cutting-edge fashion? The Milano Moda Uomo takes place from 11-14 January and offers over 100 fashion shows and presentations with some of the world's biggest names in men's clothing. Most of the shows sell out months in advance, but tickets for smaller shows can often still be found. At the very least, it ensures that the city will be buzzing with models, designers and fashionistas from around the world.
With all of these sights and events to choose from, it's likely that any visit to Milan this winter will be a busy one indeed. Get your winter gear ready and head to Agoda.com's press center at http://press.agoda.com/news/2014/1/8/agodacom-recommends-great-hotels-in-milan-for-a-refreshing-w.html to get some suggestions on great hotels.
To connect with Agoda.com and learn about special deals and promotions on hotels worldwide, like us on Facebook at http://www.facebook.com/agoda or follow us on Google+ at http://plus.google.com/+agoda, Instagram at http://instagram.com/agoda, or Pinterest at http://www.pinterest.com/agodadotcom/.