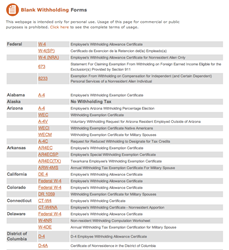 Scottsdale, AZ (PRWEB) December 30, 2013
Each year, the federal government and many states and cities issue updated employee withholding exemption certificates. These forms, more commonly referred to as W4 forms, must be completed by employees and submitted to their employers for the proper payroll taxes to be withheld from their paychecks. StateW4.com houses all of the updated forms for 2014 where users can download them free of charge for their personal use. Recently, North Carolina passed a law stating that all tax payers will pay a lower rate and be granted a higher standard deduction, but taxpayers may no longer claim personal exemptions for themselves, their spouse, children, or any other qualifying dependents. As a result of this law, all employees must submit a new employee withholding exemption certificate by January 1st or default to a single marital status and zero withholding allowances. StateW4.com contains these new forms, the NC-4 and NC-4 EZ.
Last year, over half a million unique users downloaded their withholding forms from StateW4.com.
To download the 2014 withholding forms, visit statew4.com.
For corporate users, inquire about Symmetry Payroll Forms, Symmetry Software's automated, electronic withholding forms product.
About Symmetry Software
Symmetry Software simplifies the payroll process with our dependable and accurate payroll withholding tax solutions. Our team of software engineers and taxation experts provide innovative, regulatory compliant payroll software products including the Symmetry Tax Engine®, Symmetry Payroll FormsTM, Payroll Point®, and PaycheckCity® calculators. Since 1984, Symmetry Software has been helping clients get the right taxes, the first time.