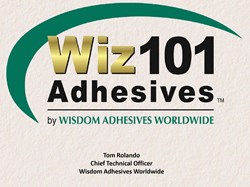 "Knowing the difference between the many types of adhesives can be confusing, so we hope Wiz 101 Adhesives can be helpful
Elgin, IL (PRWEB) January 30, 2014
Wisdom Adhesives Worldwide, a leading global manufacturer of hot melt and water-based adhesives for the packaging and converting industries and the longest continuously operating adhesives manufacturer in the world, introduces "Wiz 101 Adhesives", an informative presentation about today's adhesives. The Wiz 101 presentation, which can be viewed on Slide Share, includes detailed information on water-based, hot melt, pressure sensitive and dextrin-based adhesives most commonly used in packaging and converting applications. A "must-read" for anyone involved with adhesives, the slideshow includes practical knowledge as well as historical information.
"Knowing the difference between the many types of adhesives can be confusing, so we hope Wiz 101 Adhesives can be helpful- both to those who are just starting to use adhesives, and those of us who have been around for a while", explains Tom Rolando, Vice President of Technology of Wisdom Adhesives Worldwide. "Wiz 101 is the first in our ongoing education and training series that will provide even more information."
A global supplier of environmentally safe and compliant water-based and hot melt adhesives to industrial users, Wisdom Adhesives Worldwide manufactures water-based resins, dextrins, PSAs and acrylics; hot melt EVAs, PEs and PSAs; protein adhesives and reactive products. Wisdom Adhesives Worldwide serves a wide range of industries, including packaging, converting, bookbinding, graphic arts, tissue and towel, product assembly, textiles and general purpose. Wisdom Adhesives Worldwide is known for responding to global customer needs faster –often with a 24-hour turnaround – than any other company in the industry, providing high-quality products and personalized service second to none.
Since 1875, Wisdom Adhesives Worldwide has been advancing the technology of adhesives. The company's exceptional leadership has been headed by five consecutive generations of the Wisdom family, still exceeding the expectations of worldwide customers at an unparalleled pace. In this age of global entities, Wisdom Adhesives Worldwide stands out as a company of real people working person-to-person in order to respond to the needs of each and every industrial adhesives customer—and doing it fast.
For more information, call 847.841.7002 or visit http://www.wisdomadhesives.com. Wisdom Adhesives Worldwide is headquartered at 1575 Executive Drive, Elgin, IL 60123