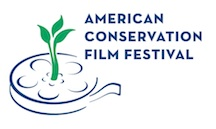 Engage Inform Inspire
Shepherdstown, West Virginia (PRWEB) October 30, 2014
The American Conservation Film Festival (ACFF) opens its 12th season in Shepherdstown, West Virginia. The festival kicks off on Thursday evening, October 30, at 6:45pm at the Byrd Center for Legislative Studies (BCLS) on the Shepherd University campus. "America's Amazon" takes us on a visually stunning tour through Alabama's Mobile-Tensaw Delta, the most biologically diverse area in North America. Filmmaker and environmental journalist Ben Raines will discuss the evolution of this little-known ecological jackpot and the current issues putting pressure on its fragile ecosystems.
A special wilderness-themed block of films will be shown at the National Conservation Training Center's Byrd Auditorium beginning at 3pm on Saturday, November 1. Two shorts from American University filmmakers, in partnership with the National Park Service, kick off the block, one chronicling the history of the ancient Saguaro Cactus in the Sonoran Desert and another taking us on a journey through the North Cascades National Park over hundreds of thousands of acres of wildlife habitat and paradise for hikers and mountaineers.
In "The Meaning of Wild," filmmaker Ben Hamilton takes viewers on a journey by foot, boat, plane, and kayak through one of our nation's wildest landscapes, the Tongass National Forest of Alaska.
Next, the audience will go on an aerial adventure with the Smithsonian Channel's "Aerial America: Wilderness," a high-flying tour of America's most breathtaking natural landscapes protected by the Wilderness Act.
The block concludes with a love story with the land and between two people in the Grand Tetons of Wyoming. From the streets of Los Angeles, Juan Martinez stepped off a bus in Grand Teton fifteen years ago and saw the stars for the first time in his life. He met and fell in love with National Park Ranger Vanessa Torres and they began a life together dedicated to protecting the land and community. "The trees don't judge where you come from or what language you speak," Martinez says in "Love in the Tetons." "This is one of the few places where we as an American people can truly call home. That's what love is at the end of the day." Martinez and Torres will be in attendance to share their story following the film.
"ACFF gives us the opportunity to appreciate our world from many different perspectives with the goal of inspiring us to take a more active role in our environment. It is wonderful to see this quality of filmmaking in our own backyard. " said Nancy Craun, founder of Go Blue Ridge Travel and a resident of Shepherdstown, West Virginia.
Fifteen filmmakers and special guests will be attending the 2014 American Conservation Film Festival this weekend, participating in post-film discussions and mingling with the crowd. 46 outstanding conservation films will be shown over four days and five venues in and around Shepherdstown from October 30th to November 2nd.
Eleven of these films will be represented by their filmmakers, film subjects, or expert speakers on the film topic, providing audience members a deeper and more personal film experience. The filmmakers of "Passion for Pike," Jan Inge Mevold Skoghiem and Trude Refsahl, are coming all the way from Norway!
On November 9 at 5pm, ACFF will present a special Audience Choice Event at the Opera House in Shepherdstown, a night of diverse treats, including a film related to the Wilderness Act followed by a discussion with Ed Zahniser, the son of the Wilderness Act's primary architect, Howard Zahniser.
For ticket information - http://conservationfilm.org/get-tickets.
About ACFF
The American Conservation Film Festival is an annual event held in Shepherdstown, WV, a vibrant arts community 70 miles west of Washington, DC and Baltimore, MD. ACFF features films from a diverse group of conservation filmmakers from around the world.
This 501(c)(3) non-profit organization addresses conservation through the lens of film, providing a platform for education and dialogue about more sustainable ways to live. By presenting outstanding conservation films, ACFF programming promotes solutions to pressing conservation issues, respect for the world's natural and cultural heritage, and passion for conserving our resources. Since 2003, the Festival has screened some 350 films to over 30,000 audience members, presented film-making workshops for aspiring documentary filmmakers, hosted panel discussions with filmmakers, and offered free family programs with the mission of engaging, informing, and inspiring people toward better ways to live, work, and play.
About GoBlueRidgeTravel.com
Founded in 2011, GoBlueRidgeTravel.com (GoBRT), a division of Encore Event Partners is the only regional website showcasing the activities, events, and accommodations in the Blue Ridge Mountains and northern Shenandoah Valley. GoBRT is now reaching out to families branding the trademark 'GoBRT's Kids Bucket List' showcasing the experiences tots to teens should have prior to turning eighteen in the valley. Covering Virginia and West Virginia, Go Blue Ridge Travel's mission is to promote culinary excellence, professional film, music, and theater, and outdoor adventure in a 100 mile radius of the Shenandoah Valley marketing to locales, and visitors both nationally and internationally.
Contact: Nancy Craun, Founder and President GoBlueRidgeTravel.com | Phone: 540.533.1853 | Email: info(at)GoBlueRidgeTravel(dot)com