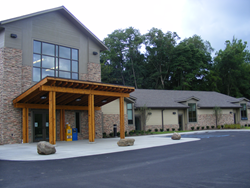 'We're proud to have earned the mark of quality from NAEYC, and to be recognized for our commitment to reaching the highest professional standards,' said William Grant, Hildebrandt's CEO
Morgantown, WV (PRWEB) April 05, 2014
The NAEYC Accreditation system was created to set professional standards for early childhood education, and to help families identify high-quality preschools, child care centers and other early education programs. To earn NAEYC Accreditation, the staff at the WVUCLC completed an extensive self-study process measuring the program and its services against the ten NAEYC Early Childhood Program Standards and more than 400 related Accreditation Criteria. The program received NAEYC Accreditation after an on-site visit by NAEYC Assessors to ensure that the program meets each of the ten program standards. NAEYC Accredited programs are also subject to unannounced visits throughout the duration of their accreditation, which lasts for five years.
The NAEYC Accreditation system has set voluntary professional standards for programs for young children since 1985. In September 2006, the Association revised program standards and criteria to introduce a new level of quality, accountability, and service for parents and children in child care programs. Today, the new standards reflect the latest research and best practices in early childhood education and development. NAEYC is committed to utilizing the newest studies and analysis on positive child outcomes to ensure young children continue receiving the highest-quality care and education possible.
In the 25 years since NAEYC Accreditation was established, it has become a widely recognized sign of high-quality early childhood education. More than 7,000 programs are currently accredited by NAEYC – approximately 8 percent of all preschools and other early childhood programs. According to Rhian Evans Allvin, Executive Director of NAEYC, "The NAEYC Accreditation system raises the bar for child care centers and other early childhood programs."
The West Virginia University Child Learning Center currently serves over 200 children, ranging in age from three months to eleven years. The center offers a safe and healthy academic learning environment that focuses on social skills, arts, literacy awareness, music and games, structured play and group activities.
Hildebrandt Learning Centers is a leader in developing and managing early learning centers in Pennsylvania, and the middle-Atlantic region of the United States for over 20 years. Presently, Hildebrandt operates 43 early learning programs and 2 adult day services centers.
HLC is committed as an organization to provide children and their families with the finest in early childhood education programs. This commitment is demonstrated by their efforts to achieve National Association for the Education of Young Children (NAEYC) accreditation for their centers. Presently, 31 Hildebrandt centers are accredited by NAEYC with several centers awaiting their accreditation review.
For more information about NAEYC Accreditation, visit http://www.naeyc.org/academy.
To learn more about Hildebrandt Learning Centers, please visit http://www.hildebrandtlc.com, email info(at)hildebrandtlc(dot)com, or call them at 1.800.874.3461.