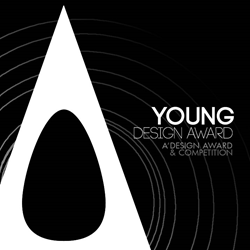 Best new design talents will be highlighted.
Como, Italy (PRWEB) March 17, 2014
Today, A' Design Award & Competition announced its call for entries to the Young Design Awards 2014, which will promote the best portfolios of young designers, fresh graduates and upcoming talent from all countries. The A' Young Design Awards differentiates itself from other design competitions for young designers by evaluating not just a single work but a whole design portfolio of the entrants; young designers are kindly required to submit 5 of their best works, plus a PDF presentation up to 40 pages that could contain other works in their portfolio.
Entries to the Young Design Awards will be judged by a 50-person expert jury panel composed of academics, design professionals and media members. Entries will be peer reviewed and anonymously judged based on evaluation criteria such as creativity, visual aesthetics, in-depth development of projects, quality of presentation and overall composition of the portfolio as well as specific criteria for different design categories.
Laureates of the A' Young Design Award will be given the A' Design Prize which includes a series of services to help the young designers achieve their dreams of becoming global design brands; young designers will have their portfolio description translated to more than twenty languages and further receive press release preparation and distribution service to reach tens of thousands of editors worldwide. Young Design Award Laureates will also be invited to join the A' Design Award Gala-Night & Award Ceremony in Italy to celebrate the success of winning the accolades, and to network with other winners, design industry professionals, companies and press members.
During the A' Design Award Gala-Night and Award Ceremony, award winning young designers will be called to stage to receive their 3D printed metal trophies, hardcover yearbooks and design excellence certificates. Award winning portfolio designs will be included in the exhibition in Italy as well as abroad. Winning works will also be exhibited online and included in the online gallery of best designs. By winning the A' Young Design Awards, the laureates will also have their name listed at Designer Rankings which lists best designers from all countries.
Entries to the A' Young Design Award shall be made online at http://www.adesignaward.com Nomination is easy and could be completed in three steps. 1. Designers should register and confirm their accounts. 2. After registration, young designers shall download submission guidelines, prepare their presentations and upload their works based on the guidelines. 3. If their entry is accepted to take part in the competition, they could proceed with nomination. Entries will be accepted till March 30, 2014 and results will be announced on April 15, 2014.
About the A' Young Design Award
The A' Young Design Awards were established to celebrate the success of young designers worldwide, encouraging their creativity, confidence and pursuit of excellence by highlighting their portfolios to press members, buyers and design enthusiasts in all countries. The Young Design Award program was especially established to bring opportunities to young people by being an international platform to promote talented designers, up-and-coming designers and design graduates who demonstrate ingenuity and creativity in their works.
About A' Design Award & Competition
A' Design Award & Competition organizes more than hundred different design competitions and contests each year, focusing on arts, architecture, design, innovation, science and technology. The mission of the A' Design Award & Competition is to create a global awareness for good design practices and principles by highlighting best design work from all countries. A' Design Award & Competition aims to create incentives for designers and businesses worldwide to come up with superior products, projects and services that benefit society. Learn more at http://www.whatisadesignaward.com.