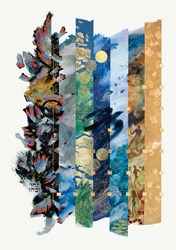 Reading, PA (PRWEB) January 10, 2014
Alvernia University will offer a year-long exhibit of The Saint John's Bible's Heritage Edition in the Frank A. Franco Library Learning Center, beginning January 2014. An opening lecture with The Saint John's Bible Program Director, Tim Ternes, will be held Jan. 23 at 9:30 a.m., in Alvernia's Francis Hall Theater.
The Saint John's Bible is the first handwritten, illuminated Bible commissioned by a Benedictine Abbey in over 500 years. Its handwritten lettering and stunning artwork truly present the Word of God in an engaging and inspirational way.
Visitors be invited to page through two Heritage Edition volumes of a full-scale fine art reproduction of the original manuscript. These volumes, depicting Pentateuch and Gospels and Acts, are two feet tall and three feet wide.
The full St. John's Bible, featuring 1,150 pages of hand-drawn illustrations, elegant scripture and gold leaf was completed in May 2011 after 12 years of work. Under the direction of chief calligrapher Donald Jackson, a team of scholars, theologians, artists and calligraphers from Minnesota and Wales worked together to complete the project. Scriptures were written using quills from goose or swan feathers and words were written on large sheets of prepared vellum, or calfskin, and paints were hand-ground from precious minerals or stones, such as gold, silver or malachite. Gold and silver leaf gild was used to illuminate or bring pages to light.
ALVERNIA is a distinctive Franciscan university, grounded in the Catholic and liberal arts traditions, that combines diverse academic opportunities with personal attention and an unmatched commitment to community service. Alvernia empowers students to become "ethical leaders with moral courage." Through real-world learning and the challenging guidance of faculty mentors, they discover their passion for life and turn what they love into lifetimes of career success and personal fulfillment. Alvernia students do well and do good.