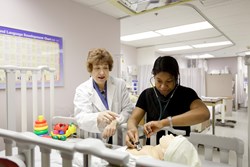 Our faculty has rich and solid experience in many healthcare settings and talents that add depth and breadth to our programs.
Reading, PA (PRWEB) February 20, 2014
Alvernia University is offering two new specialties for students seeking a Master of Science in Nursing (MSN) degree. The new Nursing Education track and the new Nursing Leadership and Healthcare Administration track are offered in a blended — part virtual classroom, part in-person — format.
In addition, the university now offers a 12-credit Graduate Certificate in Nursing Leadership.
Alvernia's MSN Nursing Education track teaches professional nurses how to instruct pre-licensure students in both didactic and clinical settings. Paired with the university's state-of-the-art simulation laboratories, Alvernia faculty's experience with technology integration will prepare professional nurses for cutting-edge, evidenced-based, teaching-learning strategies.
"Our faculty has rich and solid experience in many healthcare settings and talents that add depth and breadth to our programs," said program coordinator Kathleen Z. Wisser, Ph.D., RN, CPHQ, CNE. "Faculty is committed to engaging students in the educational process, which can advance their careers."
The Nursing Leadership and Healthcare Administration track prepares students to practice as nurse managers or executives in the healthcare system. These MSN students learn how to influence and set strategic and financial priorities and quality and safety initiatives. Students develop competencies in understanding the delivery of healthcare from a regional, national, and global perspective, key concepts of business management, budgeting processes, management of human resources, tools and strategies to manage quality initiatives, and how to develop and implement a strategic plan to attain performance excellence.
Alvernia's MSN program is accredited by the Commission on Collegiate Nursing Education (CCNE).
ALVERNIA is a thriving university that empowers students through real-world learning to discover their passion for life, while providing the education to turn what they love into lifetimes of career success and personal fulfillment, helping them make the world a better place. Situated on a scenic 121-acre suburban campus in historic Berks County, Pa., the university of more than 3,000 students is conveniently located near Philadelphia (60 miles) and within an easy drive of New York, Baltimore and Washington, D.C. With a College of Arts and Sciences and College of Professional Studies, Alvernia today offers more than 50 undergraduate majors and minors and a range of graduate programs at the master's and doctoral levels through its School of Graduate and Adult Education. Satellite sites are located in the City of Philadelphia and Schuylkill County.