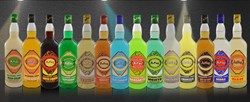 Fort Lauderdale, FL (PRWEB) February 13, 2014
Owners of Nightclubs, Restaurants, and Bars throughout the US are anxious to welcome ArKay, the world's first alcohol free liquor to showcase its invention to the upcoming Night Club & Bar convention trade show in Las Vegas Nevada on March 24th through the 26th.
With over 37,000 industry leading professionals attending the 2014 Night Club & Bar convention trade show in Las Vegas, it is the must-attend event for professionals in the bar, nightclub, beverage and hospitality industry.
ArKay Beverages is proud to bring their exciting new portfolio of 20 distinct non-alcoholic liquors to the Las Vegas Convention Center to showcase the result of their cutting edge beverage technology. After 10 years of ground breaking beverage industry research, surveying and tasting, ArKay was born and has developed a molecule that allows for a beverage which has the same taste and consistency of liquors without the alcohol. This new molecule is called W.A.R.M. and gives the "burn" effect in the drinker's mouth as if he was drinking traditional liquor.
Beverage industry professionals are excited to explore all the opportunities that ArKay can bring to their businesses. Many establishments that serve alcohol are bound to strict federal, state and local ordinances which prohibit the sale of Alcohol after certain hours. With Arkay's innovative concept, they are still able to serve their patrons after last call. With ArKay Beverages, restaurant, bar, and night club owners are able to open past curfew, while serving alcohol free drinks generating the same ROI as they would with alcohol. All that can be achieved while reducing their liability, increasing safety and encouraging patrons not to drive intoxicated.
Arkay's electrifying non-alcoholic liquors can be sold to bars and restaurant that do not have a liquor license; it is a perfect way for them to offer an outstanding substitute to their patrons.
ArKay will showcase many of their pioneering non-alcoholic liqueurs such as Alcohol Free Whisky, Vodka, Tequila, Amaretto, Coffee Liquor, Rum, Margarita, Gin, Brandy and a few more surprises. All these non alcoholic beverages also come with the additional benefits of containing 0 Sugar, 0 Carbs, 0 Fat, and 0 Calories.
About ArKay Distributing, Inc:
ArKay Distributing, Inc is a family business borned in Fort Lauderdale, Florida. The mission of the company is to provide a socially acceptable alternative to Alcohol that consumers can still enjoy without all the risks associated with Alcohol. ArKay is offered in 20 flavors and contains no calories, no carbs, no fat, and no sugar. Don't drink and Drive unless it's ArKay®. The company has its own distribution centers in Mexico , Europe and USA. For more information on becoming a qualified distributor or importer of alcohol free liquor ArKay, please visit http://www.arkaybeverages.com or call (305) 205-9132.