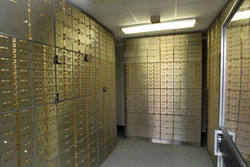 Dallas/Fort-Worth, TX (PRWEB) March 18, 2014
American National Bank of Texas (ANBTX) has entered into an agreement with Safe Deposit Box Insurance Company (SDBIC), to provide customers the ability to insure the contents of their safe deposit box. This easily obtained insurance covers all property stored in a safe deposit box, for the amount selected by the box holder without disclosure of the contents or the need for expensive appraisals, preserving the box holders' confidentiality and privacy. The insurance also provides $3,000 of replacement benefits for any important papers such as wills, trusts, deeds, titles, or even photos if they are damaged in a covered event. Without purchasing such insurance, the contents of safe deposit boxes are not otherwise insured.
"With the number and intensity of natural disasters on the rise, our customers may now elect to insure their valuable, personal property inside a safe deposit box, at a practical low cost. Knowing that their box contents are insured protects our customers, and provides them with an alternative to storing valuable items in their home, where perhaps they are not fully insured and are certainly more vulnerable to a catastrophe. Providing an insured box option is consistent with our core mission of growing and protecting our customers' assets," said Sharon Lee, EVP Client Services.
Insuring against floods, fires, terrorist attacks, burglaries, robberies, and virtually all other man-made and natural disasters and covering all property in the box including precious metals, cash, gem stones, diamonds, and even personal documents; SDBIC's patented product offers the most comprehensive, convenient insurance solution available, at an affordable rate with no deductible. Over 300 banks nationwide currently provide an insured box option to their customers using SDBIC, for more information visit http://www.sdbic.com.
Insurance for safe deposit box contents is available as of March 17, 2014 at all ANBTX branches where boxes are offered. With total assets exceeding $2 billion dollars, ANBTX has served the business and personal needs of the North Texas Region since 1875. For information about ANBTX please visit http://www.anbtx.com or call 800.837.6584.