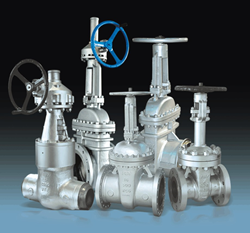 It is the reason that Industrial Surplus World can buy valves in bulk prices, then offer it's customers the best in value and price.
Houston, TX (PRWEB) March 20, 2014
Industrial Surplus World is a company that buys and sells used equipment, including scrap metal and other machinery. For the past several months, there has been a high demand for industrial valves of all types and sizes. To meet this demand, Industrial Surplus launches a nationwide campaign to purchase industrial valves of all types and sizes. The high demand of valves has caused inventories to become low. A nationwide search has been initiated to buy all industrial valves such as water valves, gas valves, control valves, manual valve actuators, hydraulic valves actuators, motorized valves, high pressure valves, level valves, and much more. This is a nationwide search. As a buyer and seller of industrial valves, Industrial Surplus has liquidated a lot of its inventory. To replenish its inventory, Industrial Surplus has launched this nationwide campaign to buy more valves.
While there are many different types and sizes of valves, some are more effective and reliable than others. Having experts in the field of valves and gauges has given Industrial Surplus World a competitive advantage among its competitors. "It is the reason that Industrial Surplus can buy valves in bulk prices, then offer it's customers the best in value and price," says Shawn Parker, President & Lead Buyer at Industrial Surplus World.
From New York to Florida to California to Chicago, there is a strong need for Industrial Surplus World to buy valves. They are searching everywhere in the United States; every city and town that has industrial valves for sale by the bulk or truck load are being considered.
In a way, every valve used in a production, manufacturing, chemical, or petroleum environment should be selected based on industrial strength, reliability, and low maintenance requirements. Depending on its environmental use, corrosion should also be a factor to consider. As an example, a petroleum company that uses a gas line valve in rugged weather should not purchase the same type of valve used in a manufacturing company where the valve will be used indoors. It's this type of expertise and knowledge that contributes to Industrial Surplus World's success with valves. By understanding the use, its environment, its size and reliability traits has Industrial Surplus World in a position to be considered a valve expert.
Industrial Surplus World began more than 25 years ago in Houston, Texas by Gino Parker. Gino and his company have a great amount of experience and expertise in this field of industrial valves. In addition, Gino is experienced with all used and surplus equipment, scrap metal, and demolition services.
Website: http://industrialsurplusworld.com