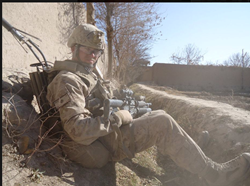 Reading, PA (PRWEB) March 13, 2014
At age 25, Eric Sears has already served his country well. The Marine veteran who served four years and one deployment to Afghanistan is now back home in Reading, Pa., a junior majoring in sport management at Alvernia University. But this spring break, he is not following his classmates to the beach. Instead, he is spending it on a hospital bed, donating stem cells to save the life of a fellow veteran with leukemia -- one he will likely never meet.
A graduate of Governor Mifflin High School, Sears joined the Salute to Life donor program as a Marine in December 2008, at Camp Geiger, N.C. Six years later, testing has determined that he is a match for a fellow veteran suffering from leukemia. This week, he is traveling to Washington D.C., to undergo a peripheral blood stem cell (PBSC) donation.
According to Salute for Life, the donation procedure starts with five days of injections -- to help boost cell count and release stem cells into the donor's blood stream. On the fifth day, these extra cells are gathered during a 4-6 hour procedure, using a special blood filtering "apheresis" machine. The donor's blood is drawn from one vein, filtered through the apheresis machine, and returned through a second vein.
Common side effects include flu-like symptoms, bone pain, headache, fatigue and nausea. Donors typically feel back to normal within about a week and can resume full activity within two weeks.
Sear's donation recipient has been preparing for the transplant by undergoing chemotherapy and radiation treatments. Once the process has begun, it becomes critical that the healthy cells are infused on schedule, as the recipient will not survive without them. Collected cells must be infused into the recipient within 24 hours.
"It's an amazing honor to be able to help some one in such a way," said Sears.
According to the National Marrow Donor Program, more than 12,000 people are diagnosed with diseases that require an infusion of stem cells each year. And more than 70% are unable to find an appropriate match within their own family and require an unrelated donor. The C.W. Bill Young Department of Defense (DoD) Marrow Donor Recruitment and Research Program (http://www.salutetolife.org) has become one of the largest American donor centers since its inception in 1991, and has coordinated more than 6,000 marrow and stem cell donations.
ALVERNIA is a thriving university that empowers students through real-world learning to discover their passion for life, while providing the education to turn what they love into lifetimes of career success and personal fulfillment, helping them make the world a better place. Learn about special benefits for veterans at Alvernia.