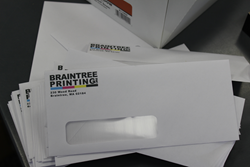 The Kolorjet is capable of printing 500 envelopes per minute.
Braintree, MA (PRWEB) April 01, 2014
Braintree Printing, a long-time leader in the digital and offset printing industry and a 3D print provider, can now print large quantities of color envelopes faster than ever. The Massachusetts-based printing company recently purchased a Kolorjet Inkjet printer by Kirk-Rudy, capable of printing envelopes and addressable documents at high speeds with outstanding print quality.
Jim Corliss, Jerry Hogan and Jose Tafur, co-owners of Braintree Printing, spotted the printer at PRINT 13, the graphic arts trade show they attended last September in Chicago. "After watching a demonstration of the Kolorjet on the exhibition floor, we knew it would be a great asset for Braintree Printing," said Corliss who purchased the equipment from DeBourke Company of Wakefield,MA.
With the Kolorjet, Braintree Printing is taking the next step in variable data, printing envelopes and documents in vibrant color with personalized addresses and unique images. Corliss said this custom marketing generates attention and better response rates for his direct mail clients.
Robin Clark, Braintree Printing's customer services representative, said the Kolorjet has improved production. "The Kolorjet is capable of printing 500 envelopes per minute, something that took me much longer before. Printing runs as large as 50,000 can be turned around from digital file to printed product in just 24 hours."
About Braintree Printing
Braintree Printing provides offset printing and digital printing for printers and print brokers throughout the Northeast. Owned by Jim Corliss, Jerry Hogan and Jose Tafur, the 30-year-old company specializes in high-end, 4 and 5 color offset printing and digital printing, 3D printing, book printing, and various types of bindery and finishing. With $6.51 million in annual sales, Braintree ranked 19th and was the highest ranking Massachusetts printer on Quick Printing Magazine's 2013 Top 100 List. Braintree Printing operates in a 17,000 square ft plant on Wood Road in Braintree, MA. Business hours are 8:30 am to 6:00 pm, Monday through Friday, with production areas working 24/7 to meet customer demand. For information, call 781-848-5300 or visit http://www.braintreeprinting.com