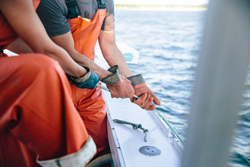 The best, freshest oysters I have ever tasted. Briny, and crisp, but most importantly I was a part of their extraordinary growing process and it has changed my whole perspective on oyster selection. 2013 Private Rack Holder
Greenport, NY (PRWEB) April 09, 2014
Little Creek Oyster Farm is opening several slots in their Private Oyster Rack Program for the 2014-2015 growing season. Rack holders will participate in a unique process from selecting hatchery sources, influence farming activities, setting target shapes and of course selecting harvest size. Participants receive monthly updates on growth, gaining interesting firsthand knowledge of the process of farming oysters without having to get their hands wet.
Little Creek Oyster Farm completed a successful Kickstarter campaign in 2013 with first harvests creating a buzz in the crowded New York oyster markets. While the retail and restaurant harvests were small and hard to come by, the core of the farm's launch was centered around providing an exclusive opportunity to grow oysters under Private Rack membership. Participants in 2013 included individuals as well as restaurants who wanted to guarantee a portion of the harvest.
Northforkoysters.com and Little Creek Oyster Farm were profiled as part of Progressive Insurance's Apron Project showcasing entrepreneurial efforts that lay outside the traditional path. Little Creek's give-back mandates include a portion of oysters be used to restock the bay to promote the health of the Peconic Bay estuary and growth in the wild oyster population.
Persons interested in the 2014 program can request more information on their website at programs.northforkoysters.com/racks.