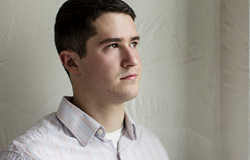 Reading, PA (PRWEB) April 11, 2014
Shainline is a Resident Assistant, a volunteer in the South Reading Youth Initiative, and the founding President of Alvernia's new service honor society Alpha Phi Omega.
Under Shainline's leadership, Alpha Sigma Omega has sponsored an impressive array of community activities, including educational events at local elementary schools, environmental remediation events at public parks, and holiday activities at a local assisted living convent for elderly members of the Bernardine Franciscan Sisters.
In addition to his work with APO, Mr. Shainline has served as a student leader for the university's Alternative Break Program, has participated in Interfaith Youth Core events and conferences, has led mission trips with the Bernardine Franciscan Sisters, and has participated in every single one of Alvernia's four annual university-wide Days of Service since his freshman year.
As a work-study student in Alvernia's Holleran Center for Community Engagement, Shainline works primarily with the South Reading Youth Initiative and Ready.Set.READ! programs, where he is universally acknowledged as a student mentor and leader. Shainline is also a member of the Delta Epsilon Sigma and Psi Chi honor societies.
Through service, research, and advocacy, Newman Civic Fellows are making the most of their college experiences to better understand themselves, the root causes of social issues, and effective mechanisms for creating lasting change. These students represent the next generation of public problem solvers and civic leaders, and they serve as national examples of the role that higher education can—and does—play in building a better world. The awards are made possible through the generous support of the KPMG Foundation.
Campus Compact is a national coalition of more than 1,100 college and university presidents who are committed to fulfilling the civic purposes of higher education, and is the only national higher education association dedicated solely to campus-based civic engagement.
ALVERNIA is a thriving university that empowers students through real-world learning to discover their passion for life, while providing the education to turn what they love into lifetimes of career success and personal fulfillment, helping them make the world a better place.