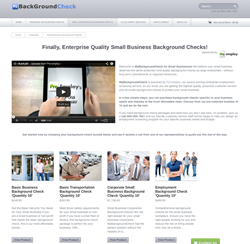 The e-commerce concept is truly making the process easier for small businesses and taking the pain out of the employment screening business...
Redding, CA (PRWEB) April 08, 2014
Pre-employ.com, Inc. based in Redding, California has launched a new background check service for small to mid-sized businesses. The new service is being delivered under the brand, MyBackgroundCheck, with an e-commerce website. Small to mid-sized businesses can order background checks as easy as shopping at any online store: http://mybackgroundcheck.preemploy.com.
MyBackgroundCheck added another layer of service to their offering, which protects and serves applicants. Every time a background check is ordered, the applicant is called by customer service.
Managers say that the background check is a 'scary, painful process for applicants' and they are committed to making it painless. Applicants no longer have to wonder what may come back, and knowing what is on the background check gives them the opportunity to dispute inaccurate information, as well as bring up anything that may need to be addressed with the employer.
Pre-employ managers believe that the background screening industry is changing. Allowing applicants the opportunity to control their information and businesses the power of fast, affordable background checking, they say, is the future of the industry.
The MyBackgroundCheck product line features pre-built background check bundles specifically compliant and desirable to all industries, including retail/small merchants, healthcare companies, volunteer organizations, small business corporations, transportation, and more. The company plans to add many more specialized products for industries as customers request customized packages.
MyBackgroundCheck's products include the following services:

Dedicated account managers for each customer
Every applicant is called on behalf of the customer
SMBs get access to the enhanced client portal for future ordering
U.S. based teams monitor every background check for accuracy and speed
Custom packages and the lowest pricing in the industry
Businesses can order the screening packages in bundles of 10 and order as they hire via the enhanced client portal. There are no ordering minimums or long term contract requirements.
The customer service team is ready to assist businesses in choosing the right screening program for their applicants or custom build a program that meets the needs and budget of the business.
MyBackgroundCheck will also provide the business with their own branded web pages to direct applicants to order their own background checks. A widget can be created to fix directly on the business website and the applicants can order their own background checks.
"The e-commerce concept is truly making the process easier for small businesses and taking the pain out of the employment screening business. Our service empowers both the applicant and the employer," said President, Joe McKenna.
In four simple steps, the customer can order a pre-built background check package, just like ordering any other product online. The service and operations team handle all other processes for the small business customers. Full training and support is provided for every business who opts in to the e-commerce background check solution.
MyBackground check has also recently added Electronic Form I-9 and E-Verify services for small to mid-sized businesses as well.
For more information, visit: http://mybackgroundcheck.preemploy.com or call customer service at 800-300-1821.
About MyBackgroundCheck & Pre-employ.com, Inc.
Pre-employ.com, Inc. was founded in 1994 as one of the first web based background check outsourcing companies. Corporate offices are located in Redding, California. Pre-employ is a top 13 provider in the industry based on HRO Today's Baker's Dozen. MyBackgroundCheck is a sister company created by Pre-employ to service Volunteer, Healthcare, Small Business, and Education industries with applicant supplied and low volume business background checking services. The company's mission and culture is based on providing unmatched 100% US based customer service, innovative workforce solutions, and applicant advocacy. For more information, call 800-300-1821 or emailrapidresponse(at)pre-employ(dot)com.