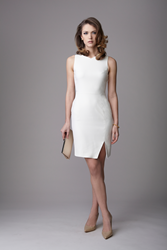 "...A pillar for the M. Bottiglieri brand is creating a personalized experience for the e-commerce consumer," comments Vitiello.
New York, N.Y. (PRWEB) May 16, 2014
Designed in the West Village neighborhood of NYC and in Rome, Italy, M. Bottiglieri combines the luxury of ultra-fine Italian fabrics with NYC, USA craftsmanship and manufacturing.
"Manufacturing in the United States and particularly here in the Fashion District of New York City was extremely important for our company vision," states Founder and CEO, Salvatore Vitiello. "With so many skilled artisans and craftsmen in New York, our goal was to create a product with the finest Italian fabrics and highest American manufacturing standards, combined with offering a truly unique personal shopping experience for our consumer."
The initial Collection for Summer/Fall 2014 is a women's ready-to-wear, limited-edition capsule collection named and inspired by "la coccinella", Italian for "the ladybug."
The styles were designed with clean lines and follow a neutral color palette, providing unlimited versatility when outfitting.
"Our vision was to create classic, timeless styles with subtle modern design, which can be worn from a woman's morning and workday into the evening," states Vitiello. "All of our fabric is infused with a slight amount of stretch for comfort and wearability. These pieces were created to be staples in every woman's wardrobe, not only for a season, but also for years to come," adds Vitiello.
Designed to reflect the continuously progressive role of women in the workplace and society, the capsule Collection is comprised of shirts, suiting, dresses, shells, trousers and fine Italian cashmere knits offered online through MBottiglieri.com and in select boutiques worldwide on a limited basis.
As an integral part of its business model, the Company established a robust, multi-pronged strategy to offer a true one-to-one luxury experience for its clients through:

Bespoke/Custom-Made Options for All Styles in the Collection
Complimentary Post-Purchase Tailoring in NYC
Personal Stylists
A Carefully Selected and Highly-Trained Customer Service Team
"In the ever-increasing depersonalizing economy, a major driver of sustainable success is how a company treats its customers, and a pillar for the M. Bottiglieri brand is creating a personalized experience for the e-commerce consumer," comments Vitiello.
M. Bottiglieri's Bespoke for women is an offering that is extraordinarily rare among even the most highly regarded luxury women's fashion brands. This service provides custom-made garments created by the Company's world-renowned NYC-based designer and seamstress, Katalin Varga.
To complete its suite of personalized customer service offerings, visitors to the M. Bottiglieri.com boutique can speak or communicate directly with a personal stylist and seek advice regarding an online or in-store purchase, to receive personal assistance with outfitting, fit, color coordination, fabric and garment care, accessorizing, and hair and make-up recommendations.
For more information on M. Bottiglieri and/or its Collection, please contact pr(at)mbottiglieri(dot)com or visit http://www.mbottiglieri.com.
About M. Bottiglieri, LLC
M. Bottiglieri, LLC's global headquarters is in the Printing House on Hudson Street in the West Village neighborhood of NYC. The Company has a design studio in the Fashion District of NYC, along with design and distribution offices in Rome, Italy.
©2014 M. Bottiglieri, LLC. All rights reserved.