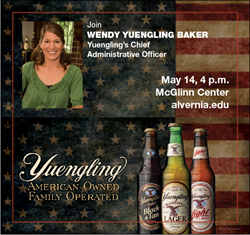 Reading, PA (PRWEB) May 05, 2014
Join Wendy Yuengling Baker of Yuengling Brewery for a discussion on challenges faced by women in family businesses, and how the Yuengling Brewery has survived to become a sixth generation company, and America's oldest brewery. Sponsored by Alvernia University's Family Business Center, the event will take place at the McGlinn Conference Center, adjacent to main campus, May 14, 4-5:30 p.m.
Wendy serves as Chief Administrative Officer for D.G. Yuengling & Son, Inc., America's Oldest Brewery. She is the sixth generation of a family-brewing legacy that began in 1829 in Pottsville, Pa.
The Yuengling Brewery is still family-owned and operated today, celebrating a milestone 185th Anniversary in 2014. It distributes beer in 14 states along the east coast and produces a variety of year-round brands including Traditional Lager, Light Lager, Black & Tan, Lord Chesterfield Ale, Dark Brewed Porter, Premium and Light, as well as seasonal Bock, Oktoberfest, and soon to be released Summer Wheat.
Wendy graduated from Lehigh University's College of Business and Economics with a Bachelor of Science degree in marketing. Following graduation, she worked as a project manager for the market research company Information Resources, Inc. After moving to Baltimore, Md., Wendy began a career in advertising working for Carton Donofrio Partners and MGH Advertising. She joined the family business in 2004 and spent the next several years working in every department of the company – learning sales, marketing, and operations, including brewing and packaging. She currently works in an administration role for the brewery, focusing on information systems, finance, human capital, sales and marketing.
Alvernia's Family Business Center offers seminars, networking, and other resources to the proprietors of family-owned businesses.
Alvernia is a distinctive Franciscan university, grounded in the Catholic and liberal arts traditions, that combines diverse academic opportunities with personal attention and an unmatched commitment to community service. Alvernia empowers students to become "ethical leaders with moral courage." Through real-world learning and the challenging guidance of faculty mentors, they discover their passion for life and turn what they love into lifetimes of career success and personal fulfillment. Alvernia students do well and do good.