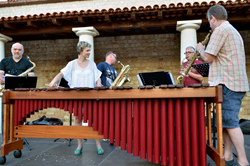 (PRWEB) June 25, 2014
Musicians want an instrument that inspires and supports them. For 30 years, Ron Samuels has focused on making the best, most musical marimba—overcoming obstacles one by one in pursuit of the perfect sound.
If so many percussionists are hooked on marimba one®, it's because when you play a marimba one®, the sound you want comes naturally. And that's because the craftsmen and engineers are continually refining the art of marimba making.
The latest innovation featured in the marimba one Izzy™ and integrated in all marimbas built by marimba one, is harmonic filters.
These breakthrough devices pioneered by marimba one® make the marimba sound more even and balanced across the entire range of the keyboard.
"Through intensive acoustic research, sound spectrum analysis, and careful listening" says marimba one® founder Ron Samuels. "We noticed some bass notes that were brighter than we wanted them to be".
The harmonic filter is the solution.
Harmonic filters are designed to attenuate upper harmonics that when too loud would detract from the strength of the fundamental.
Think of noise-cancelling headphones: we pinpoint specific harmonics in the resonators that we feel detract from the warmth and innate character of the marimba. We then build into the resonator a harmonic filter that cancels out the offending harmonic and therefore reinforces the marimba one® sound we are looking to create.
Through this precise acoustic engineering, the marimba becomes more musical. "We believe our marimbas should always support you and your vision of music," says Samuels.