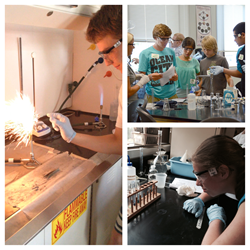 Reading, PA (PRWEB) July 21, 2014
Budding scientists are benefitting from a unique partnership between a global corporation and a community-oriented university — both committed to making an impact on young people's lives. For the third year, Carpenter Technology Corporation teamed up with Alvernia University to offer 150 Reading, Pa., middle-school students a free, week-long immersion into the world of science, dubbed the "Project Exploration" Science Institute.
Scientists from Carpenter Technology and Alvernia University engaged seventh through ninth grade students from 30 different schools in topics like chemistry, engineering, and physics — through experiments that explored liquid nitrogen, chemical flames, slope mechanics, and trajectory launch engineering.
In addition to spending half a day studying macro-invertebrates, water quality, and conservation scene investigation in nearby Angelica Creek Park, the students were given a rare behind-the-scenes tour of Carpenter's No. 5 mill and R&D building. According to Carpenter, Mill 5 can roll more alloys in more sizes than any other known specialty steel mill.
Students also heard remarks from Jeanette Hogan, manager of R&D Radical Technology Development and Specialty Alloys Operations at Carpenter. Alvernia's Holleran Center for Community Engagement, designed to be a bridge between the university and the community, generated a team of 30 volunteers to help the scientists bring Project Exploration to the university's O'Pake Science Center and campus this summer.
Carpenter is a leader in the development, manufacture and distribution of cast/wrought and powder metal stainless steels and specialty alloys. Their worldwide staff of expert metallurgists, research and development scientists, engineers and service professionals work to find innovative solutions for specific product requirements. The company's commitment to technical leadership in specialty metals is epitomized by the work that goes on in its research and development center, where ongoing research and development programs in physical metallurgy, analytical chemistry, and applied physics are explored every day.
ALVERNIA is a thriving university that empowers students through real-world learning to discover their passion for life, while providing the education to turn what they love into lifetimes of career success and personal fulfillment, helping them make the world a better place.