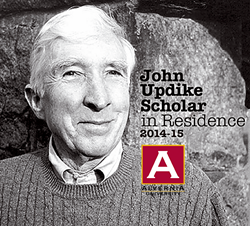 Reading, PA (PRWEB) August 13, 2014
David Updike, son of acclaimed author John Updike, has been named the John Updike Scholar in Residence at Alvernia University, beginning Aug. 2014.
With a style all his own, David Updike has penned a number of books, including "Old Girlfriends," and "Out on the Marsh," as well as an illustrated quartet for young readers: "A Winter Journey," "An Autumn Tale," "A Spring Story," and "The Sounds of Summer." His short stories have been published in The New Yorker and literary magazines such as Epiphany.
Updike's first duty as Scholar in Residence comes as the John Updike Society Conference returns to its original location at Alvernia University, Oct. 2-4, 2014. Updike will talk about his father's life "in pictures and prose" during the conference's only session that is open to the public: Oct. 2, 2 p.m., in Francis Hall Theater.
In addition to touring John Updike's nearby boyhood home, conference attendees will also hear from Updike biographer Adam Begley and Graphic Designer Chip Kidd, who was responsible for many of Updike's dust jackets.
In 2010, Alvernia was selected to house the newly-created John Updike Society archives. Since then, the archives have grown to include a wide range of materials related to Updike's life and work, as well as collections from old friends and longtime colleagues. The repository has helped dedicated scholars delve into the literature and life of one of America's most acclaimed authors.
After studying art history at Harvard and receiving a Master of Art in Teaching degree from Columbia University, David Updike taught English and creative writing at MIT and currently serves as a professor of English at Roxbury Community College in Boston. He was also the photographer and a photographic illustrator of a children's book "A Helpful Alphabet of Friendly Objects," written by his father.
Alvernia University was founded in 1958, the same year Updike saw publication of his very first book, "The Carpentered Hen and Other Tame Creatures." It is a thriving, Franciscan university that empowers students through real-world learning to discover their passion for life, while providing the education to turn what they love into lifetimes of career success and personal fulfillment, helping them make the world a better place. Situated on a scenic 121-acre suburban campus in historic Berks County, Pa., the university of more than 3,000 students is conveniently located near Philadelphia (60 miles) and within an easy drive of New York, Baltimore and Washington, D.C. With a College of Arts and Sciences and College of Professional Studies, Alvernia today offers more than 50 undergraduate majors and minors and a range of graduate programs at the master's and doctoral levels through its School of Graduate and Adult Education.