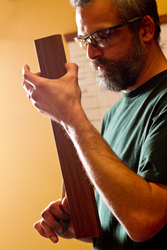 Arcata, CA (PRWEB) August 29, 2014
This October, premier maker of concert instruments, Marimba One, is sending its founder Ron Samuels, and master tuner to Germany to retune Europe's finest marimbas. Marimba One is the brainchild of sound-obsessed Ron Samuels, who founded it in 1986. The marimba is a large percussion instrument, like a giant xylophone, with keys made of rosewood. Over time, these keys, like a piano's, may need retuning.
Marimba tuners are a rare and precious breed, and normally if a musician needs his marimba retuned, he sends it off to the manufacturer and waits...and waits, sometimes for months.
Concerned about the musicians' need to have their instrument and their aversion to sending the instrument to the manufacturer for retuning, Marimba One has inaugurated the equivalent of a house call. "We realized that this was a better way to service our instruments and keep them tuned," explains Ron Samuels, founder and owner of Marimba One, Arcata, CA, "so we decided that now, the master tuner comes to you!"
That's why Samuels and master tuner Brian will fly to Europe's largest music store, Musikhaus Thomann, with whom Marimba One has partnered to service customers. In Germany, Brian will tune keyboards in the acoustically designed and temperature-controlled concert hall of Musikhaus Thomann. Customers can contact percussion specialist Michael Schumm to schedule the retuning. Samuels will be available to answer questions on Marimba One instruments, acoustics and engineering.
After more than a decade of tuning marimba keyboards, Brian's expertise has no equal, part art and part technique. At Marimba One, tuners match the resonance and harmonic character of each bar to its neighboring bars. The result is every keyboard sounds and feels as if it's from a single piece of wood.
"I love the challenge of it," says Brian, who has been tuning keyboards at Marimba One for over 12 years. "Every piece of wood is unique, which keeps it interesting."