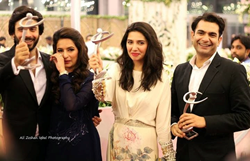 We couldn't be more excited about being such a hit in Pakistan and India.
(PRWEB) September 01, 2014
Right now it would be difficult to find a niche that's increasing in international popularity quicker than Pakistani drama. Fueling this momentum has certainly been Pakistan's unique television portal TV.com.pk which happily announced its third birthday recently, a birthday that marked the innovative website's ever growing reach and popularity. Launched by leading web portal in Pakistan, Onepakistan, TV.com.pk delivers a wide range of programming and features, including Pakistani TV, the latest television personalities and remarkably extensive television and entertainment related news. The TV portal has seen its popularity explode in the last year, both inside Pakistan and out and experts say this trend is very much expected to continue.
"We couldn't be more excited about being such a hit in Pakistan and India," commented a spokesperson from the website. "We've had every confidence that this was going to occur, but to accomplish so much in just two years is incredible. The surge in our social media reach and alexa ranking has put us on Top in the country as we reach to Top 100 most visited sites in Pakistan."
According to the company one major source of viewers has been the attraction of the incredibly popular Pakistani drama shown on the site in association with official channels. Pakistani drama is not only critically praised, but perhaps more importantly, serial dramas like Zindagi Gulzar Hai and Aun Zara to name two, have won a fanatically loyal fan base in Pakistan, India and among Pakistani expatriates world-wide. India, in particular, has embraced these Pakistani dramas with both arms after the launch of channel "Zindagi" which showcases only Pakistani dramas.
TV.com.pk has in the past two years established relationships with and features all of the major Pakistani channels including GEO, HUM, ARY and other popular channels in Pakistan. The site was even profiled recently on an entertainment program on GEO TV bringing in more visitors and interest as awareness of the website expanded.
Another interesting feature is the site's IMDB like section which features entries on most of Pakistan's most popular actors and actresses, including what shows and movies they have starred in and personal backgrounds, birthdays, comments on their relationships status and even current rank in popularity.
All these factors have combined to deliver over 5 million views to TV.com.pk in less than three quarters in 2014, with numbers growing greatly each and every day.
With the rising interest in the web portal, our visitors have given their full endorsement.
With a winning product and a highly skilled team behind the scenes it's very clear that much more success can be expected from the website in the months and years to come.
Follow http://www.tv.com.pk for more updates on Pakistani TV Industry.