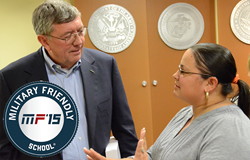 Reading, PA (PRWEB) October 20, 2014
Alvernia University is working hard to meet the needs of its growing veteran population on campus.
A newly opened Veterans Center on main campus will be staffed by work-study students, Veterans Club volunteers, and the university's new Veterans Advocate, Captain Curt Stevens. Retired from the US Navy, Capt. Stevens is currently pursuing a doctorate in leadership from Alvernia. As the Veterans Advocate, he will coordinate the ongoing work of Alvernia's Veterans Success Team, uniting efforts from admissions to student financial planning to health services.
"The Alvernia Veterans Center will not just be a meeting or gathering spot for veterans, students on active or reserve military duty and their friends, but it will also be a resource center and a hub of activities and programs," said President Tom Flynn.
Efforts by the university to assist veterans has been well received by the growing veteran-student population on campus, and has resulted in a third consecutive year of being recognized as one of the top 15% Military Friendly Schools in the U.S., by G.I. Jobs. Alvernia's veteran population has increased 40% since 2008.
The Veterans Services initiative was shaped by Alvernia staff members Shanna Bossler, Jason Deitz and Claire Murphy, with the help of an Alvernia Innovation Grant. Veteran and Alvernia Trustee Carl Anderson, along with his wife Debbie, provided a two-year start-up fund to help launch the center immediately.
"As begun by the Bernardine Sisters two generations ago, we have a longstanding, core commitment to educate those in special need of the opportunity for a private, valued-based education," said President Flynn. "These men and women are worthy of our support and encouragement as they pursue productive lives of professional success and personal meaning. We are proud to help our veterans to 'do well and do good.'"
Alvernia is also a member of the Yellow Ribbon Program — a provision of the Post-911 Veterans Educational Assistance Act of 2008 (GI Bill) that provides payments for tuition and fees, as well as a book and supplies stipend, and a housing allowance for veterans who have served on active duty since September 11, 2001. Alvernia University matches agreements with the Department of Veterans Affairs (DVA) to pay veterans' tuition and fee costs above those covered by the GI Bill Benefit.
ALVERNIA is a thriving university that empowers students through real-world learning to discover their passion for life, while providing the education to turn what they love into lifetimes of career success and personal fulfillment, helping them make the world a better place. Situated on a scenic 121-acre suburban campus in historic Berks County, Pa., the university offers its 3,000 students a College of Arts and Sciences and College of Professional Studies. Alvernia also offers more than 50 undergraduate majors and minors and a range of graduate programs at the master's and doctoral levels through its School of Graduate and Adult Education. Satellite sites are located in Philadelphia and Schuylkill County.