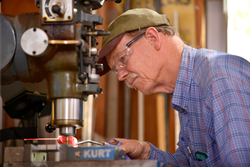 "You can only obtain the best sound with the finest components."--Steve Cole, Engineering Consultant, Marimba One
Arcata, CA (PRWEB) November 03, 2014
It's subtle but significant: the new instrument released by Marimba One this year, the marimba one Izzy includes aerospace-grade materials. Aircraft-grade aluminum and alloys, highly-engineered fasteners and specialized production tools equip the instruments with premium acoustic fidelity, lighter weight, easier assembly and longer life expectancy.
Coupled with marimba one's selective use of Honduras Rosewood for the best keyboard voicing, this state-of-the-art aerospace technology ensures the very finest sound, developed across 30 years of acoustic research, engineering and ergonomic innovations.
Marimba one's distinguished consulting engineer, Steve Cole, is a private pilot and aircraft owner who understands the exceptional value of advances in aircraft production to the world of percussion.
"Our materials are at the top of their class," says Cole, a musician himself and a top official of a local symphony. "You can only obtain the best sound with the finest components, whether wood, metal or engineered polymers. They provide strength, durability and sophisticated manufacturing processes. We can achieve highly complex shapes and help protect the marimbas from hostile environments, like humidity and temperature changes."
Because marimbas are by definition large and heavy instruments, aircraft-grade aluminum saves weight while preserving musicality. "We use aluminum in instances where steel might be less expensive, but aluminum provides the structure that we need, at the same time as achieving a lighter instrument."
marimba one also employs specialized, high-strength fasteners. They make for tighter fits and tolerances and eliminate the vibration, squeaks and rattles that compromise musicality.
These components also protect marimbas from damage when they are moved around, dismantled and reassembled. The result is that only minor tuning is needed over a long period of years. Maintenance is easy.
Cole points out that marimba one founder Ron Samuels has sold marimbas to many schools that have been in service for 20 years. "They still perform the same way they did when they were brand new," Cole says.