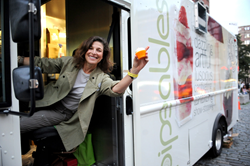 Reading, PA (PRWEB) December 03, 2014
Sandy Solmon, founder, CEO and chief innovator of Sweet Street Desserts will receive an Honorary Degree of Humane Letters from Alvernia University before addressing the Class of 2014 at Winter Commencement, Dec. 13, at 1 p.m.
A dynamic entrepreneur recognized for innovation, philanthropy and cutting-edge research, Sandy Solmon is Founder of the world's largest manufacturer of frozen gourmet desserts. With 700 employees worldwide, Sweet Street Desserts products are sold in 65 countries through all channels of foodservice — from casual to fine dining in cafés, restaurants, hotels and on-site management.
"As a Franciscan university, rooted in the Catholic and liberal arts traditions, Alvernia seeks to honor individuals who embody lives of service and leadership as well as professional excellence," said President Thomas F. Flynn, Ph.D.
A pioneering and hands-on innovator, Sandy personally oversees a large R&D staff including both chefs and scientists at Sweet Street's Reading, Pa., headquarters — a 300,000-square-foot, state-of-the-art facility.
In 1994, the U.S. Copyright Office awarded Sweet Street Desserts the first-ever copyrights recognizing the design of food products. Today, the company owns 15 patents and has grown from a small cookie service into a worldwide company selling 400 varieties of gourmet desserts.
Recent innovations include savory product offerings, the construction of a second production facility in South Carolina, the redesign and expansion of Café Sweet Street™, and the launch of the first Sweet Street Mobile Art Kitchen™ (M.A.K.™) — a collaboration of artists, videographers, chefs and bakers bringing American food to the streets of Paris.
With a solid background as a New York Times photojournalist, Solmon has thrived at the intersection of art, science, commerce and generosity. Her accolades include an impressive number of innovation awards, recognition for dedication to diverse ethnicity employment and exemplary community service. She has been honored as one of Pennsylvania's Best 50 Women in Business and is a member of the Zenith Group, helping minority businesswomen gain a larger piece of the purchasing pie.
ALVERNIA is a distinctive Franciscan university, grounded in the Catholic and liberal arts traditions, that combines diverse academic opportunities with personal attention and an unmatched commitment to community service. Alvernia empowers students to become "ethical leaders with moral courage." Through real-world learning and the challenging guidance of faculty mentors, they discover their passion for life and turn what they love into lifetimes of career success and personal fulfillment. Alvernia students do well and do good.