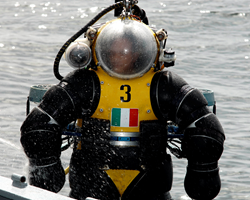 Burnaby, British Columbia (PRWEB) December 08, 2014
OceanWorks International is pleased to announce that the 3rd of the Italian Navy's three Atmospheric Diving Systems (ADS), commonly referred to as HARDSUIT™ has been received at OceanWorks International's Burnaby facility. The suit is undergoing major systems upgrade bringing it to the same standards as the previous suits which were upgraded and delivered in 2012 and 2013. The improvement to the ADS is expected to be completed in March of 2015 with delivery to the Italian Navy shortly thereafter.
Taking advantage of thruster improvements and upgraded electronic systems, the engineering team at OceanWorks is enhancing the ADS in the areas of Thruster and Buoyancy systems, and Electronics and Communications systems thus returning to the Italian Navy a HARDSUIT with increased performance, improved reliability, and a decrease in the amount of technician training required.
OceanWorks is an internationally recognized subsea technology company specializing in the design and manufacture of manned / unmanned subsea systems and specialized equipment for military, oil and gas, scientific, and other marine markets. OceanWorks has been at the cutting edge of deep submergence and diving technology, operations, and support for over 20 years. We look forward to providing subsea engineering solutions to our customers for years to come.
For more information on OceanWorks International products and services please visit our website at http://www.oceanworks.com/ or contact us at marketing
(at)oceanworks(dot)com.