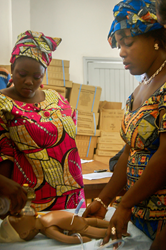 Dr. Malonga was very pleased with the instruction, stating that "the idea of having a structured plan for resuscitation was a new concept to the hospital."
Pointe Noire, Republic of the Congo (PRWEB) February 28, 2014
Life-changing surgery is a daily miracle onboard the world's largest charity hospital ship, the Africa Mercy. But this month, Mercy Ships healthcare educational programs also reached beyond the port gate and into the community of its host nation to enable Congolese nurses to better serve patients long after the Africa Mercy has sailed away.
After the ship's arrival last August into his port, Dr. Malonga, Chief of Neonatology at Adolphe SICÉ General Hospital, reached out to Mercy Ships Hospital Projects Manager Krissy Close (USA) with a need for more effectual resuscitation techniques in his hospital. Dr. Malonga's request was simple: "Please come teach our nurses and midwives how to save more lives."
A few months later, Mercy Ships volunteer Hannah Giboney, an American nurse specializing in neonatology, recruited fellow nurses Lizzie Chitty (UK) and Hannah Wysong (USA) to spend two weeks of free time to teach a neonatal resuscitation class on-site at Adolphe SICÉ. The team's planning was reinforced by a generous product donation from Laerdal Global Health, a not-for-profit company whose mission is to help save the lives of newborns and mothers in low-resource countries.
Beth Herndon (USA) of Mercy Ships explains, "Laerdal was pleased to donate two NeoNatalie Complete Resuscitation Kits [as well as] the Helping Babies Breathe curriculum for developing nations. We were very excited to receive this donation."
The brilliantly designed NeoNatalie kits include crucial tools such as breathing masks, stethoscopes and bulb suction. The life-like doll is an invaluable teaching aide. A pump can be attached to make NeoNatalie "breathe" and to give her a "pulse" that can be checked through the umbilical cord or by stethoscope. The chest visibly rises and enables students to practice giving chest compressions, which click when done correctly.
This hands-on education was essential. Hannah explains: "In the case of an emergency at birth, the midwives told me that they would start to give some form of breaths and chest compressions. If that didn't work, someone would carry the newborn downstairs to an available NICU nurse. The midwives who deliver the babies did not have direct access to emergency medication, proper resuscitation methods or doctors. This needed to change."
The neonatal resuscitation class began with an in-depth lecture based on the Helping Babies Breathe curriculum. The following day, the NeoNatalie dolls were set out on tables, and the training team simulated the proper medical reaction to a specific crisis. The Congolese midwives and nurses were then tasked to demonstrate their understanding by repeating what they had just seen.
"The Helping Babies Breathe program is focused on simple, lifesaving solutions. About 10 % of all babies need some help to start to breathe. Research has shown that the majority of babies are saved by simple stimulation, clearing the airway and bag-mask ventilation. In Helping Babies Breathe, the goal is to really drill these simple lifesaving techniques to help birth attendants save lives. Research from Tanzania showed that Helping Babies Breathe reduced early neonatal mortality by 47 % and rates of fresh stillbirths by 24 %," said Ingrid Laerdal, Assisting Managing Director Laerdal Global Health.
Hannah occasionally stepped in to further the challenge. For example, she would say, "You have just discovered the baby has meconium [a thick substance that lines a baby's intestines during pregnancy] in its throat. What do you do before compressions begin?" Students used their newly learned principles to properly react to each variable.
By the end of the second day, the nurses and midwives practiced with confidence, deftly distributing tasks amongst the group after a code scenario was given. "If they can remember the basic principles from this course, it will make a huge difference in lives saved," commented Lizzie.
Certificates were awarded during a mini-graduation, and the participants eagerly expressed how much they valued this outreach program.
Dr. Malonga was very pleased with the instruction, stating that "the idea of having a structured plan for resuscitation was a new concept to the hospital."
The two-day neonatal resuscitation class offered by Mercy Ships began with a lecture based on the Helping Babies Breathe curriculum. By the end of the class, Congolese nurses and midwives practiced the newly learned techniques with added confidence.
For more information on Helping Babies Breathe, see http://www.helpingbabiesbreathe.org.
For more information about Laerdal Global Health, see http://www.laerdalglobalhealth.com.