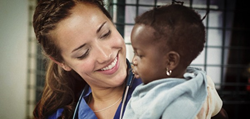 "I find that I learn more from my patients then I could ever learn in a classroom. I have learned how to enjoy life, to be thankful for what I have, to learn what is really important." - Molly Gacetta
Garden Valley, TX (PRWEB) May 12, 2014
Since the Africa Mercy arrived in the Republic of Congo in August, 2013, more than 360 nurses have volunteered their critical expertise and caring skills onboard the 11,600 ton hospital ship. Operating room nurses assisted surgeons in more than 2400 surgeries in the five state-of-the-art operating rooms during the ship's 10-month stay in port. Ward nurses delivered excellent bedside care and plenty of hugs to patients recovering in the 82 ward beds. And every afternoon, nurses pulled wagons carrying giggling young patients around on the outside deck of the ship, where patients got some daily exercise and fresh air.
As the world acknowledges International Nurse's Day, Mercy Ships recognizes this profession's critical contribution to delivering life-changing and life-saving healthcare to thousands of patients annually onboard the Africa Mercy. The world's largest charity hospital ship would not be able to deliver healthcare services without its crew of exemplary volunteer nurses.
Nurse Jenica Gammie who calls Fort Worth, TX, and Denver, CO, home, has found that besides building relationships with patients, she's most enjoyed mentoring Congolese nurses who have worked alongside Mercy Ships nurses on the Africa Mercy. Twenty-three Congolese nurses were paired with Mercy Ship nurses in both operating rooms and wards to gain valuable experience during the ship's stay in port. "That experience of getting to share knowledge, empower a local nurse, further her education, encourage her and be encouraged in return has been one of my favorite experiences," Jenica exclaimed.
Volunteer nurse Bethany Salmonson, from Bemidji, MN, went into the nursing profession with the intent of doing overseas medical missions with her degree. She spent five years gaining experience first to prepare for Mercy Ships. Bethany finds great joy working on the Africa Mercy, "…I might not speak their local languages, but I can understand the smiles, the hugs, and the dancing as they receive the news that we are able to operate…. or when they see the healing afterwards," she said.
Molly Gacetta, a nurse from Seattle, WA, resigned from her nursing job in Seattle to volunteer with Mercy Ships. "I felt called to Africa for much of my life, and really had a desire and passion to help people in Africa in some capacity," said Molly. She worked on board with patients receiving plastic surgery, with the wound dressing team and with women who suffered obstetric fistulas. The fistulas were caused after an obstructed and prolonged labor and delivery, without having access to proper healthcare. These women delivered a stillborn child and became incontinent. Molly and the other nurses onboard cared lovingly for them as they were restored to physical and emotional health by a free operation to cure their fistulas.
Greenville, North Carolina, resident Scott Eldridge has been caring for patients in his nursing career for 32 years. He first heard about Mercy Ships on the radio in 2005. Scott just completed his second short-term stint on the ship. Scott enjoys, "Being able to work with patients and experience patient care as it was initially designed…to take care of patients and spend time with them and their families."
Little Rock, Arkansas, volunteer nurse Melinda Kaney, tells the transformational story of Ravette in this video.
Nurses around the world remain a critical link to every nation's provision of excellent healthcare. For more information about how to volunteer as a nurse with Mercy Ships during our next field service to Benin, West Africa, contact jobs(at)mercyships(dot)org.
END
ABOUT INTERNATIONAL NURSES DAY: International Nurses Day is celebrated around the world every May 12, the anniversary of Florence Nightingale's birth. In the U.S., National Nurses Week was first observed from October 11–16, 1954 in honor of the 100th anniversary of Florence Nightingale's mission to Crimea. President Nixon later proclaimed a "National Nurse Week" in 1974. In 1982, President Reagan signed a proposal officially designating May 6 as "National Recognition Day for Nurses," now known as National Nurses Day or National RN Recognition Day. In 1990, the American Nurses Association (ANA) expanded the holiday into the current National Nurses Week celebrated from 6 May to 12 May.
ABOUT MERCY SHIPS: Mercy Ships uses hospital ships to deliver free, world-class health care services, capacity building and sustainable development to those without access in the developing world. Founded in 1978 by Don and Deyon Stephens, Mercy Ships has worked in more than 70 countries providing services valued at more than $1 billion, treating more than 2.42 million direct beneficiaries. Each year Mercy Ships has more than 1,600 volunteers from more than 35 nations. Professionals including surgeons, dentists, nurses, health care trainers, teachers, cooks, seamen, engineers, and agriculturalists donate their time and skills to the effort. Mercy Ships seeks to transform individuals and serve nations one at a time. For more information click on http://www.mercyships.org.
For More Information Contact:
Mercy Ships Media Liaison
Tel: (903) 939 7000
Email: us.media(at)mercyships(dot)org
http://www.mercyships.org
Hi-res photos and general Mercy Ships B-Roll video footage are available upon request.