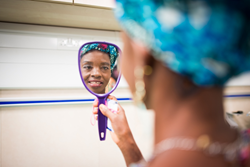 Now I am comfortable when I sleep. My bed is not wet anymore...Today is a good day.
Garden Valley, TX (PRWEB) May 22, 2014
May 23rd is International Day to End Obstetric Fistula. In much of the developing world, basic obstetric care is inaccessible. Women must live with, or die from, the consequences of unattended childbirth. According to the United Nations, it is estimated that 2 million to 3.5 million women in developing nations currently suffer from obstetric fistulas, and between 50,000 and 100,000 new cases develop each year. An obstetric fistula, which is a hole between the birth canal and the urinary tract, occurs when a woman suffers prolonged labor without medical care or access to an emergency cesarean section. In most cases, the child is stillborn, and the woman becomes incontinent as a result of injuries suffered during labor. In addition to the physical trauma, this condition causes extreme shame, rejection and isolation for these women.
Mercy Ships is working to reverse this global crisis for women by providing free obstetric fistula surgeries onboard the world's largest charity hospital ship, the Africa Mercy, currently docked in the Republic of Congo, Africa. One of those patients was Gisele.
In 1993, Gisele was 28 years old and expecting a baby. She was elated with the anticipation of motherhood and the thought of building a family with her husband. But, during a prolonged obstructed labor in her Congolese village, she lost her baby and developed an obstetric fistula, leaving her incontinent.
Her physical pain was nothing compared to the accompanying emotional burden of her husband's rejection. Realizing that his wife would probably never have children, he decided to leave and take another wife because he still wanted children. He told Gisele, "With you, I am wasting my time." Due to the odor and the stigma around her condition, Gisele withdrew into a life of solitude. She lived with a steady stream of urine trickling down her legs for 20 years before she heard about no-cost fistula surgeries onboard the Africa Mercy.
Obstetric surgeon Dr. Itengre Ouedraogo, Medical Director of the Danja Fistula Center in Nigeria, performed obstetric fistula surgeries onboard the Africa Mercy in the Republic of Congo. That's where he met and operated on Gisele. Dr. Ouedraogo described the abandonment and shame that women with fistulas face: "You were a mother, you were a wife, but tomorrow nobody knows you because you are leaking urine."
Gisele used to wake up all night long to change her wet clothes. But, since her obstetric fistula surgery onboard the Africa Mercy, she says, "Now I am comfortable when I sleep. My bed is not wet anymore." Graceful and bird-like, Gisele knits with perfect posture and hums between conversations with the women on either side of her in the Africa Mercy ward. A nurse makes the rounds to check Gisele's catheter bag, which is full, and she asks if Gisele's bed is dry. It is. These signs indicate that the surgery was a success.
And a glowing Gisele says, "Ajuord'hui ce'est bon." Today is a good day.
About Mercy Ships:
Mercy Ships uses hospital ships to deliver free, world-class healthcare services, capacity building and sustainable development to those without access in the developing world. Founded in 1978 by Don and Deyon Stephens, Mercy Ships has worked in more than 70 countries providing services valued at more than $1 billion, treating more than 2.42 million direct beneficiaries. Each year Mercy Ships has more than 1,600 volunteers from more than 35 nations. Professionals including surgeons, dentists, nurses, health care trainers, teachers, cooks, seamen, engineers, and agriculturalists donate their time and skills to the effort. Mercy Ships seeks to transform individuals and serve nations one at a time. For more information click on http://www.mercyships.org.
For More Information Contact:
For USA
Mercy Ships Media Liaison
Tel: (903) 939 7000
Email: us.media(at)mercyships(dot)org
http://www.mercyships.org
or Int'l
Diane Rickard
International Media Manager
Mercy Ships
rickardd(at)mercyships(dot)org
Hi-res photos and general Mercy Ships B-Roll video footage are available upon request.