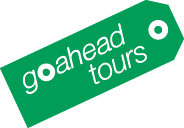 Right Size Advantage is about improving our product across all tours and offering even more value to our customers.
Cambridge, MA (PRWEB) September 11, 2014
Go Ahead Tours, a leading tour operator that's part of the EF Education First family of companies, announced today the release of its new Right Size Advantage which limits tour groups to 35 travelers or less.
Right Size Advantage defines each Go Ahead tour's ideal group size based on the experience. Some tours are capped as low as 14 travelers while others will have no more than 35—well below the industry standard of 45.
"We're dedicated to looking at all aspects of a traveler's experience on tour to make sure every detail is just right, and that includes group sizes for each tour," says Heidi Durflinger, Executive Vice President of Go Ahead. "Our Right Size Advantage is about identifying what group size will have the most impact for our customers, giving them the opportunity to get even closer to the local culture and create those unforgettable moments with others on tour."
The smaller group sizes are new for all 2015 departures and available at no additional cost to customers.
The company began looking into its maximum group sizes after receiving feedback from customers who enjoyed traveling with smaller group sizes and felt it gave them more immersive experiences.
Rather than creating a portfolio of small group tours as many operators do—often at a premium for customers—Go Ahead chose to reduce its maximum group size for all tours. The challenge was adjusting the standard size without offloading costs to customers—a key requirement of the program and significant undertaking, according to Durflinger.
"It was really important to us to be able to provide a smaller group cap to customers without impacting our pricing," Durflinger says. "This initiative is about improving our product across all tours and offering even more value to our customers. Our prices are the best value in the industry."
To develop Right Size Advantage, Go Ahead assembled a task force to look into all aspects of a customer's experience on tour—from the intricacies of each destination to analysis of customer reviews post-tour—and assess how to best optimize group size.
"My team and I speak to our travelers regularly and read every review and evaluation we receive. We are constantly seeking out ways to improve the traveler experience and know there is a connection between this and group size," says Director of Quality Control Daniela Vaccaro who led the task force.
The company found a cap of 35 travelers to be ideal because it offers the benefits of group travel but with added ease and flexibility to explore new cultures. On tours to popular European cities such as Paris and Rome, for example, travelers have more access to Tour Directors, less time waiting in line and more space on the bus than with a cap of 45. For travelers going on safari in the Serengeti or to exotic destinations like Guatemala and Zimbabwe, small groups as low as 14 are necessary to access remote settings and stay in authentic lodging.
With the introduction of Right Size Advantage, Go Ahead has also released additional tour dates starting with its 2015 and 2016 departures.
"We're pleased that another benefit of this new initiative is that we're now offering even more opportunities for our customers to be able to travel at the best time for their schedules," says Durflinger. "It adds to what our program is all about – making it as easy as possible for travelers to immerse themselves in new cultures and explore the world."
For more information on Go Ahead and its new Right Size Advantage offering, visit http://www.goaheadtours.com/rightsize.
About Go Ahead Tours:
Go Ahead Tours offers 100+ industry-leading guided tours to inspiring destinations on all seven continents. Founded in 1990, Go Ahead delivers high-quality, culturally enriching travel experiences at great value for both individuals and groups. Tours include Walking Tours, Land & Cruise Tours, Food & Wine Tours, Safaris, Nature & Wildlife Tours, City Stays and multi-country trips, as well as the opportunity to customize your itinerary. As part of the EF Education First family of companies, Go Ahead is part of an unmatched network spanning across more than 50 countries and 500 offices. EF Education First is a leading private education company dedicated to breaking down barriers of language, culture and geography. For more information, please visit http://www.goaheadtours.com.
###
Media Contact:
Julia Metcalf
jules.metcalf(at)ef(dot)com
617.619.2015