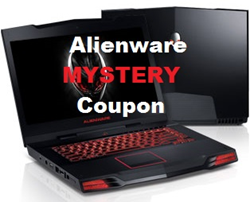 By using this mystery coupon, alert gamers and shoppers can receive an extra 5%, 10% or 15% off select Alienware PCs.
(PRWEB) April 15, 2014
Newly released Alienware Mystery Coupon let shoppers save an extra 5%, 10% or 15% off select Alienware gaming PCs. This new "mystery" coupon has just been listed on the Bizwaremagic.com site, which runs a popular online Laptop Buyer's Guide for its subscribers and visitors. The current discount coupon runs from 4/14/2014 to 4/17/2014 7:00 am so any potential buyers must act quickly if they want to take advantage of these savings.
In order to use this mystery coupon, shoppers must first go to the discount page and click the button to receive a mystery coupon code. Then shoppers must enter this coupon code to discover how much they will save. Simply pick one's chosen PC or Dell accessory and then supply the coupon to the shopping cart to receive the extra savings.
In addition to this mystery coupon, Alienware is also running an ongoing trade-in program where any gamer/shopper can upgrade to an Alienware PC by trading in one's used game console or PC to receive a $200 promotional eGift card with the purchase of a new Alienware system. This offer comes with free shipping and the end date is 1/31/2015.
Remember, any Alienware or Dell coupons may be limited and may end at any moment. There also may be special conditions so any potential shoppers should see the official Alienware site for all terms of these special offers.
The Bizwaremagic.com site has been running its online Laptop Guide for over 10 years and gaming laptops/systems from Alienware have always been a popular choice, despite the somewhat expensive price tags. In order to reduce those hefty prices, subscribers of this notebook guide are notified immediately when new Alienware coupons are released to the public.
The special Mystery Alienware Coupon can be found here: http://www.bizwaremagic.com/alienware_coupons_discounts.htm or check out these top rated gaming laptops: http://www.bizwaremagic.com/best_gaming_notebooks.htm All products/companies mentioned above are registered trademarks of their respective owners and companies.