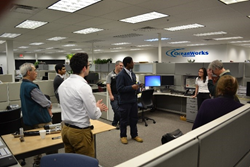 Burnaby, BC (PRWEB) December 16, 2014
OceanWorks International welcomed members of The Association of Professional Engineers and Geoscientists of British Columbia (APEGBC) on Wednesday December 10th for an evening of presentations and tours at its Burnaby based facility.
The site tour, organized by APEGBC member and OceanWorks Systems Engineering Supervisor Harald Grob accomplished its goal of familiarizing the APEGBC members with OceanWorks' strong engineering and design capability, its manufacturing and testing facility, and several of the major projects OceanWorks has completed such as the Subsea Fluid Dispersant System (SFDS) for Marine Well Containment Company (MWCC), the refurbishment of the OceanWorks designed Node Pod for CSnet International's Offshore Communications Backbone (OCB) System deployed in the Mediterranean, and the upgrade of the Atmospheric Diving System (ADS) for the Italian Navy.
OceanWorks staff was pleased with the strong turnout which necessitated the forming of 3 groups which in turn received tours of the manufacturing area, participated in an information session in the engineering department, and attended a company presentation provided by OceanWorks' Sales and Marketing Department.
OceanWorks International is a subsea solution engineering company, providing over 20 years of service to the Oil & Gas, Military, and Scientific & Environmental markets. Offering a full range of subsea system engineering, design and analysis, fabrication, testing, and project management services, OceanWorks has been at the cutting edge of subsea engineering design, deep submergence and diving technology, operations, and support and we look forward to providing subsea engineering solutions to our customers for years to come. For more information regarding OceanWorks International's products and services visit our website, http://www.oceanworks.com , or contact us at marketing(at)oceanworks.com