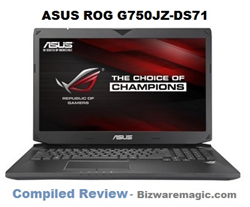 The Asus Republic of Gamers G750JZ-DS71 gaming notebook features one of the fastest GPUs on the market and offers great value for money.
(PRWEB) September 30, 2014
As an ongoing feature of its handy Laptop Buyer's Guide, the Bizwaremagic.com site often presents compiled reviews of some the most popular and best-selling laptops on the market. The Asus G750JZ-DS71 gaming laptop compiled review is a perfect example and gives any prospective buyer a complete summary of this powerful high-performance notebook. This helpful review examines all the key elements and/or issues with the Asus G750JZ line of laptops.
While not exactly portable, the 9.9 pound Asus G750jz does offer some of the latest advancements in notebook technology such as the fast Nvidia GeForce GTX 880M graphics card and Intel's latest Haswell i7-4700HQ 2.4Ghz processor with Turbo Boost to 3.4 GHz. This laptop also has the Optimus Technology, which allows one's system to automatically switch between discrete and integrated graphics in order to save battery life.
In addition, one of the main selling points for the Asus G750JZ has to be its greatly improved cooling system, which efficiently directs/controls any excessive heat via dual independent fans - one for the GPU and one for the CPU. This effective cooling system keeps the G750 well ventilated and cool, even when playing the most demanding video games. Fan noise is also kept to a minimum.
The G750 has two drives - one TB 7200rpm hard drive and a 256 Solid State Drive or SSD. It also has a 17.3 inch 1080p glare-resistant display. Depending on the price, the Asus G750JZ-DS71 comes with 24GB of Ram, while the higher price G750JZ-XS72 has 32GB.
While not as flashy as other gaming laptops in this price range, most notably the Alienware 17, the G750JZ is still attractive. It's made of high-quality plastic and sporting a black exterior and interior, this notebook does have its takers - especially those on the conservative side who want a powerful machine without all the flashing lights. It offers great value for the money and should be on every gamer's short list of the best gaming laptops.
To read the full compiled review of the Asus ROG G750JZ-DS71, go here: http://www.bizwaremagic.com/asus-g750jz-ds71-compiled_review.htm or check out these top rated gaming laptops: http://www.bizwaremagic.com/best_gaming_notebooks.htm All products/companies mentioned above are registered trademarks of their respective owners and companies.