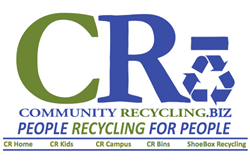 Working with CR Campus and having CR Bins allows us to capture the things that students leave behind when moving out at the end of a semester.
Washington, District of Columbia (PRWEB) January 21, 2014
In an effort to increase campus recycling and waste reduction, American University announced that they have joined the Reuse Movement and partnered with Community Recycling, a for-profit clothing recycler with a focus on reuse. The collaboration works towards AU's goal to be Carbon Neutral and Zero Waste by 2020, and also addresses AU's strategic plan that states "life at the university will be marked by rich opportunities for service, an active pursuit of sustainability, a steadfast sense of ethics, and a vigorous commitment to the city and people of Washington, D.C."
Eight Community Recycling clothing recycling bins have been placed strategically around campus and near residence halls to capture all of the extra clothing, linens, shoes, and accessories of students, faculty, staff, and surrounding community residents. The goal of the collection bins is to make clothing recycling convenient and help to make the university to get closer to a zero waste campus.
Since launching its waste-reduction initiatives in 2011, AU has successfully expanded recycling and waste prevention awareness throughout the campus. Last spring, AU took part in CR Campus, a program designed specifically for greening move-out days on campuses and universities across the country, and yielded great results. AU again will participate in CR Campus in spring of 2014.
"Working with CR Campus and having CR Bins allows us to capture the things that students leave behind when moving out at the end of a semester," said Chris O'Brien of the Sustainability office. "If it doesn't fit in the plane, train, or automobile during move-out, it's left behind. CR Campus allows us to responsibly recycle with reuse in mind, as we move closer to our zero waste goals."
"At Community Recycling, we have been working tirelessly to promote REUSE and create a movement of People Recycling for People," said Lisa Pomerantz, VP of Marketing and Business Development. "American University epitomizes the type of educational institution that values clothing recycling and holds their students, faculty, and staff to a zero waste policy. That will continue to resonate with these academic students as they graduate, and throughout their lives."
"We want all students on campus to pledge to Join the Reuse Movement and make certain our clothing and related items never see landfill," O'Brien explained. "It's in the best interest of our campus community and our environment."
In a recent report from the US EPA titled, Municipal Solid Waste Generation, Recycling and Disposal in the United States: Facts and Figures for 2011* clothing and textile recycling has among the highest levels of impact on reducing greenhouse gasses. The report further stated that today's clothing recycling rates have the equivalent impact of removing one million cars from the nation's roads. That is more than more than five times the impact of recycled yard trimmings, more than four times the impact of glass recycling, more than plastics recycling, and nearly the same impact as recycling aluminum.
###
ABOUT COMMUNITY RECYCLING
Community Recycling is proud to be a for-profit clothing recycler. They are on a mission to celebrate the cause of clothing recycling, with reuse as the central feature that connects people all over the world. Utilizing the power of technology and global shipping, they are able to connect the dots between the gently used clothes, shoes, bags, belts and related materials to the people around the globe who need these affordable and fashionable things most. Community Recycling is successfully diverting millions of pounds of clothing from landfills, generating new revenue streams for municipalities, schools, non-profits, thrifts and US businesses. Their efforts fuel local economies through job creation domestically and internationally. Community Recycling, founded in 2001 and headquartered in Fairless Hills, PA, offers a portfolio of innovative recycling programs including CR Home, CR Kids, CR Campus, CR Bins and ShoeBox Recycling. Visit us at http://www.communityrecycling.biz for more information and please join us as in our mission of People Recycling for People.