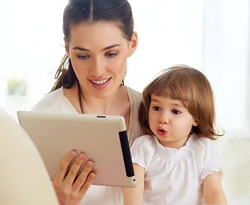 One of the attributes of [video] self-modeling is that positive results are seen almost immediately," says Tom Buggey, Ph.D., Siskin Endowed Chair of Excellence in Early Childhood Special Education at the University of Tennessee at Chattanooga.
San Francisco California (PRWEB) August 12, 2014
The upgrades allow users to customize InnerVoice in a variety of ways:

Edit or delete text from buttons in any vocabulary
Rearrange buttons in any vocabulary
Resize vocabulary buttons
Select the number of buttons viewable on the screen
Customize any button by using either an image and/or a label
What's special about InnerVoice? Communication challenges are at the core of autism spectrum disorder (ASD). To tackle these challenges, InnerVoice uses both the expertise of speech-language pathologists and the guidance of cutting-edge research in its design.
The most powerful aspect of InnerVoice is the use of photo-generated avatars, which allow users to see themselves successfully speaking; this feature is called video self-modeling. Interestingly, watching a person perform physical movements can stimulate key parts of the brain that enable imitation, and imitation is a crucial part of the learning process for just about everyone. Research shows that video self-modeling is a highly effective way to teach skills to people with autism, possibly because this approach stimulates brain structures called mirror neurons. Mirror neurons are essential to learning most motor activities, including speech development.
Research led by Dr. Joe McCleery, whose study was supported by the autism philanthropy Autistica, found that motor behaviors play a key role in learning language, and that children with autism show specific motor impairments and demonstrate less "mirroring" brain activity. Dr. McCleery stated, "We feel that the field is approaching a turning point, with potentially dramatic breakthroughs to come in both our understanding of communication difficulties in people with autism, and the potential ways we can intervene to make a real difference for those children who are having difficulties learning to speak."
InnerVoice is a break-through communication app that can make a difference for people on the autism spectrum.
Here's why: Mirror neuron research is showing that kids need to imitate others in order to learn language. InnerVoice seeks to increase imitation through the use of video self-modeling. Other research shows that reward centers and learning occur in similar brain regions. In short, a person learns more while being engaged. InnerVoice accomplishes this through the use of edutainment.
Ed•u•tain•ment (noun /ˌɛʤəˈteɪnmənt/) is content with a high degree of both educational and entertainment value that is designed to teach something using games, computers, films, or other media. With InnerVoice, users can animate most images of a human face and make them speak -- which can be hilarious! That said, this entertainment factor encourages individuals to practice new skills through play, heightening engagement and building interest in learning.
"I've always had difficulty getting students on the spectrum to use their AAC systems. Using the 3D avatars – the puppy is the favorite – my students actually have fun communicating.... communication is supposed to be fun!" – iTunes Customer Review
Remote Prompting is a new approach to teaching communicative independence using iDevices (iPad, iPhone, and iPod Touch). With InnerVoice, prompts are sent via Bluetooth from the educator's device to the learner's iPad, whose screen displays an avatar correctly saying a word, phrase or sentence. Most importantly, Remote Prompting reduces confusing verbal explanations that interfere with learning; the system simply demonstrates what a user should imitate.
InnerVoice piques the interest of people with or without autism. With its amazing technology and unique features, InnerVoice encourages play, stimulates conversation, and builds bridges for people with communication challenges.