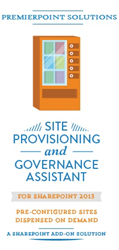 Site Provisioning and Governance Assistant is a winning solution for everybody.
Nashville, TN (PRWEB) March 17, 2014
PremierPoint Solutions will host a free one-hour webinar titled "Automating the SharePoint Site Creation Process While Enforcing Governance" on March 19 at 11 a.m. EDT.
The webinar will share a proven solution to the backlog of IT work – and the stress on IT resources – that occurs when manually creating and provisioning large numbers of SharePoint sites.
The solution, Site Provisioning and Governance Assistant (SPGA) for SharePoint, automates the SharePoint site approval and provisioning process while maintaining uniformity, governance and compliance with company policies and standards.
By automating the site creation process, SPGA enables administrators to ensure that site after site is created and configured uniformly and automatically, according to pre-determined settings. Uniformity, governance and company standards are strictly enforced, enabling administrators to simply "set it and forget it."
Users then request the type of site they need, and the site is approved, created and provisioned for them automatically.
The webinar hosts are Jason Fitzgerald, software support engineer for PremierPoint Solutions, and Randy Moody, the company's customer service manager.
Fitzgerald, who will lead the technical portion of the webinar, has nearly 15 years of experience in information technology, primarily with system infrastructure engineering and administration. He has been working with and supporting Sharepoint infrastructures since 2005. Prior to joining PremierPoint Solutions, he was a consulting systems engineer with Hospital Corporation of America (HCA), where he led and managed all aspects of the Enterprise Sharepoint implementation.
Moody, who has been with PremierPoint Solutions from its founding, noted that SPGA is similar to a site-vending machine in that it enables administrators to automate the site creation process, giving them total control over SharePoint site provisioning.
"Site Provisioning and Governance Assistant is a winning solution for everybody. IT maintains the control it needs while also drastically reducing labor – meaning the backlog of site requests evaporates – and users get the power they want to initiate the creation of their own sites," he said.
SPGA empowers companies to:

Provide users with an easy method for requesting new SharePoint sites
Create pre-configured Site Request Profiles for different types of sites
o "Bake" exactly what they want into each SharePoint site request profile in advance Provide users with just the functionality they need for each site
o Keep an organization's look and feel consistent throughout
o Prevent random deviations company site standards
o Protect the integrity of an organization's SharePoint hierarchy and taxonomy
o Enforce governance policies, security settings and other stipulations

Automate an organization's approval process for requesting new SharePoint sites
o A user initiates the site creation process by requesting a new site based on particular Site Request Profile
o Sites are approved and created automatically through workflows
o No more wondering if company standards are being adhered to
o Users have access to their new sites much more quickly
SPGA is available for SharePoint 2010 and 2013. To register for the webinar, click here.
Based in Nashville, Tenn., PremierPoint Solutions (formerly SharePoint Solutions) is a Microsoft Certified Partner and a nationwide leader in expert-led, in-person and online public classes on SharePoint products and technologies. The company's software division professionally develops high-quality commercial add-ons for SharePoint. Most of the company's courses and services are also applicable to Office 365.