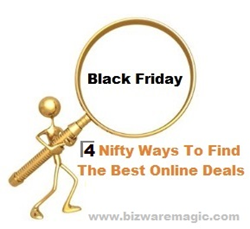 Alert online shoppers can use these four simple tactics to get the best online holiday deals and discounts.
(PRWEB) November 25, 2014
This year will prove no different - long before the Thanksgiving dinner is even served, holiday goers will be bombarded with Black Friday deals and discounts. While a large majority of the general public have developed a well-founded disdain for these holiday shopping events, there are a few dedicated shoppers who relish the thought of snapping up the best bargains. This fact is especially true for online deals where the bargain-hunter can shop from the comfort of his or her home.
According to Bizwaremagic.com, a long running marketing site now entering its 13th year online, these die-hard holiday shoppers have probably developed special techniques or ways of tackling the maze of holiday offers to find the best deal. These simple methods can begin with using comparison shopping sites/apps and taking full advantage of online discount coupons. Often these shoppers can progress to more elaborate methods such as fully utilizing hashtags and even Google Alerts in order to find the best bargains.
The Bizwaremagic site has constructed a helpful webpage which fully explains these shopping techniques which may take some of the hassles away from holiday shopping. Using just a few of these simple tips can make online buying much easier on the nerves and the pocketbook.
In addition, because quantities are often limited, special emphasis is placed on securing those jaw-dropping doorbusters which never last long. Often it is just a matter of doing some simple "homework" before these shopping events even start. In the online shopping arena, these savvy shoppers know acting fast and decisively will largely determine how happy one will be at checkout.
For those shoppers venturing into these crowded stores this holiday season, Bizwaremagic.com believes knowing and using these four simple tips will make one's holiday shopping a lot easier. Before long, dare we venture to say, everyone will be snapping up those deals like a pro.
Bizwaremagic.com is an online business and marketing website, which offers many free guides to its visitors. During the holiday season, a special emphasis is placed on helping its subscribers and patrons find the best online discounts and bargains. To discover how to make one's holiday shopping less stressful and to find the best discount deals try this page: http://www.bizwaremagic.com/find_best_online_deals.htm