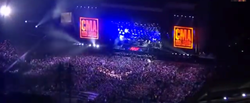 I like it, I love it, I want some more of it. - Tim McGraw
Nashville, TN (PRWEB) January 27, 2014
This June, the Country Music Association (CMA) Music Festival is bringing a plethora of headliner country artists to its annual festival at LP Field in Nashville, Tennessee. The line-up is to be announced in coming weeks.
Since its first concert in 1972, CMA Music Festival has been providing the ultimate country music experience for country-lovers across the nation. Nonstop concerts, autographs, and celebrity events are some of the many features fans can enjoy.
Last year, the Festival reached an all-time attendance high with an average daily attendance of 71,000 people.
The dates of this year's festival are as follows:
Thursday, June 5th
Friday, June 6th
Saturday, June 7th
Sunday, June 8th
4-day passes include luxuries such as the June 4th Kickoff Parade & Block Party, early entrance into the venue, stage front photo-line access, daily autograph signings at the Nashville Convention Center, and free in-town shuttles. 4-day passes range from $420-$5750, with additional parking fees. LP Field is wheel chair accessible, and children under 3 are admitted free of charge.
With attendance rising, passes are selling quickly so don't miss out! Find the best prices and inventory through Ticket Monster.
See you at the biggest country festival event of the year!