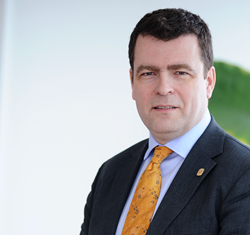 We look forward to working with the 400 dedicated volunteers of the Africa Mercy and the courageous patients it serves. Roland Decorvet
Lausanne, Switzerland (PRWEB) March 18, 2014
Mercy Ships announced today that Roland Decorvet, Chairman & CEO of Nestlé China, will be joining the organization as Managing Director of the Africa Mercy, the largest civilian hospital ship in the world. Mr. Decorvet and his family, originally from Switzerland, will be based onboard the ship beginning of May 2014. In order to assume his new position, Mr. Decorvet will be leaving the Nestlé Group, effective at the end of April.
The Africa Mercy provides free medical care on and off ship to thousands of patients suffering from a variety of curable medical conditions in West and Central Africa. The ship, which is operated and staffed by volunteers, is currently harbored in Pointe-Noire, Republic of Congo. As Managing Director and volunteer, Mr. Decorvet will oversee all aspects of the ship's operations and the projects on the field.
A seasoned international business executive, Mr. Decorvet has spent 23 years with Nestlé. He has been Chairman and CEO of Nestlé China since 2011. Earlier in his career, he served as CEO of Nestlé Switzerland and CEO of Nestlé Pakistan and Afghanistan. In 2013, he was named "Businessman of the Year" at the China Financial Leaders Annual Conference. Mr. Decorvet he has been a member of the Mercy Ships Switzerland board since 2008 and on the Mercy Ships International board since 2011.
Mr. Decorvet said, "It is a privilege to be able to join the crew of the Africa Mercy. My family and I are humbled by the organization's work, which represents our Christian values, and extremely excited about the opportunity to contribute. We look forward to working with the 400 dedicated volunteers of the Africa Mercy and the courageous patients it serves."
Don Stephens, Founder and President of Mercy Ships said, "We are very fortunate to have the benefit of Roland's leadership and management skills, along with his enthusiastic commitment to service, on our senior team. The Africa Mercy is a vibrant community with staff from over 35 countries that will embrace Roland and his family as they make this transition."
About Mercy Ships
Mercy Ships uses hospital ships to deliver free, world-class healthcare services, capacity building and sustainable development to those without access to medical care in the developing world. Founded in Lausanne, Switzerland in 1978 by Don and Deyon Stephens, Mercy Ships has visited more than 70 countries providing services valued at more than $1 billion, impacting more than 2.42 million direct beneficiaries. Each year Mercy Ships has more than 1,600 volunteers from over 35 nations. Professionals including surgeons, dentists, nurses, healthcare trainers, teachers, cooks, seamen, engineers, and agriculturalists donate their time and skills to the effort. Mercy Ships seeks to transform individuals and serve nations one at a time. For more information click on http://www.mercyships.ch
To view a profile of Mercy Ships produced by the CBS television news program "60 Minutes," please click here: http://www.mercyships.org/60minutes/
Swiss and French Speaking Media Contact:
Stéphane Rapin
Board Chairman, Mercy Ships Switzerland
Mercy Ships Switzerland
+41 (0)21 654 32 10
stephane.rapin(at)mercyships.ch
http://www.mercyships.ch
International Media
Diane Rickard
Mercy Ships
Diane.rickard (at)mercyships.org
http://www.mercyships.org