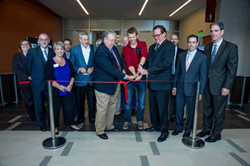 "With recognition by Trade Show Executive magazine as one of the 50 fastest growing trade shows in the country, we know that ESX is on to something special," said ESX Chair George De Marco.
Irving, TX (PRWEB) July 22, 2014
Each year, the Electronic Security Expo (ESX) affirms that it's possible to offer a diverse show floor that is large enough to spotlight next-gen security products and services, yet manageable for security professionals to tour and drill deeply into any category.
After listening to keynote Tom Avery, a British Explorer, present his extreme and unique experiences about traveling to the North and South Poles on foot, Electronic Security Association (ESA) President John Knox and Central Station Alarm Association (CSAA) President Jay Hauhn officially cut the ribbon to open the ESX show floor at the Music City Center in Nashville, Tenn., at 1 p.m. on Wednesday, June 23.
As more than 2,000 industry professionals crowded the halls, 200-plus exhibitors in 32,000 square feet of exhibit space gave attendees a glimpse of industry trends and new technologies. All of the key categories were represented, including video, access, intrusion, fire and monitoring technologies, as well as insights on converging product opportunities like automation, information technology, and audio/video.
Jointly owned and sponsored by ESA and CSAA, ESX is the only major national show focused exclusively on the needs of electronic security integration and monitoring companies. However, it's more than just a trade show – ESX provides an exceptional blend of educational sessions and networking events that are also a major part of the weeklong event.
ESX 2014 featured 39 educational sessions and numerous special events including the Eye-Opener Breakfast presented by ESA's Young Security Professionals, the Industry IceBreaker Luncheon, ESA Celebrates, the ESX Crawl, the Keynote Luncheon, and the ESA Industry Luncheon and Annual Meeting. During the Annual Meeting, new officers and 2014-2016 President Marshall Marinace were sworn in.
At the conclusion of the event, ESX reported a four percent increase in pre-sold booth space and sponsorships for ESX 2015. 
"We are not surprised by ESX's year-over-year increased sales. With recognition by Trade Show Executive magazine as one of the 50 fastest growing trade shows in the country, we know that ESX is on to something special. It provides a mutually beneficial ecosystem that allows attendees and exhibitors to have meaningful conversations and make important connections," said George De Marco, ESX Chair. "Next year's ESX will be held in Baltimore, which gives us an even greater opportunity to expand our reach up and down the East Coast."
For more information about ESX, please go to http://www.ESXweb.com or contact John Enright at 770-432-8410 x 107 or jenright(at)tradeshowlogic(dot)com.
About ESA
Established in 1948, the Electronic Security Association (ESA) is the largest trade association representing the electronic life safety and security industry. Member companies install, integrate and monitor intrusion and fire detection, video surveillance and electronic access control systems for commercial, residential, industrial and governmental clients. In cooperation with an alliance of chapter associations, ESA provides technical and management training, government advocacy and delivers information, advice, tools, and services that members use to grow their businesses and prosper. ESA may be reached at (888) 447-1689 or on the Web at http://www.ESAweb.org.