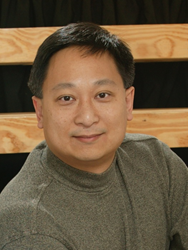 Each year at the Summit, I capture business intelligence from the speakers, peers and sponsors that I bring back to my business. It is well worth the time I invest.
Irving, Texas (PRWEB) September 16, 2014
Award-winning entrepreneur and accomplished author Patrick Thean is the Electronic Security Association's (ESA) latest addition to the speaker roster for the 2015 ESA Leadership Summit, which is scheduled for Feb. 8-11 at the Pointe Hilton Tapatio Cliffs Resort in Phoenix, Ariz. ESA is thrilled to include Thean, a Cornell educated serial entrepreneur who has spoken to thousands all of the world, in the speaker lineup.
Thean will bring ideas and proven strategies from his bestselling book, "RHYTHM: How to Achieve Breakthrough Execution and Accelerate Growth," to life in a general session presentation and in two seminars on Wednesday, Feb. 11. The conversation will begin with all Summit attendees during the general session at 1:30 p.m. where Thean will teach attendees a simple system that will help them better execute strategic plans and get into the habit of continually achieving success in their businesses.
Following the general session, Thean will present, "THINK: Winning Moves to Double Your Business." In this seminar delivered to a smaller audience, Thean will explore the Rhythm Systems Winning Moves tool that can help companies take the right steps to double business in the next three to five years. The seminar will teach attendees how to keep their teams focused and working on the future of their business. Thean will wrap up his presentations with "PLAN: How to Choose the Right 3-5 Priorities Every Quarter," a seminar focused on helping teams choose the right priorities every quarter using the Leading Indicator tool from Rhythm Systems.
The eye-opening presentations are best suited for managers, executives and business owners who have a desire to strategically accelerate company growth. All of Thean's sessions are graciously sponsored by Honeywell, the Platinum ESA Leadership Summit Sponsor.
"The 2015 ESA Leadership Summit is a one-of-a-kind event within the security industry," said Steve Firestone, president of Select Security and vice chair of ESA's Industry Advisory Group (IAG). "It's a quality event that provides ample networking opportunities and interactive educational sessions delivering actionable takeaways that can be implemented when I return to my office. Each year at the Summit, I capture business intelligence from the speakers, peers and sponsors that I bring back to my business. It is well worth the time I invest."
Headquartered at the Pointe Hilton Tapatio Cliffs Resort, the 2015 ESA Leadership Summit is formatted to appeal to security industry professionals who want their businesses to thrive, not just survive. Accordingly, the Summit will feature a robust speaker and seminar lineup to give attendees actionable and applicable takeaways that they can immediately implement. The event is sponsored by Interlogix, Honeywell, Telguard, Altronix, Security America Risk Retention Group, Alarm.com, Digital Watchdog, Fleetmatics, Kwikset, Linear, OpenEye, Perennial Software, Security Partners, United Central Control, and WeSuite.
For information about the 2015 ESA Leadership Summit, go to http://www.ESA-Summit.com or contact Shannon Murphy at 972-807-6835. For Leadership Summit sponsorship opportunities, please contact Jessica DaCosta at Jessica.DaCosta(at)ESAweb(dot)org or call her at 972-807-6827.
ABOUT ESA
Established in 1948, the Electronic Security Association (ESA) is the largest trade association representing the electronic life safety and security industry. Member companies install, integrate and monitor intrusion and fire detection, video surveillance and electronic access control systems for commercial, residential, industrial and governmental clients. In cooperation with an alliance of chapter associations, ESA provides technical and management training, government advocacy and delivers information, advice, tools, and services that members use to grow their businesses and prosper. ESA may be reached at (888) 447-1689 or on the Web at http://www.ESAweb.org.