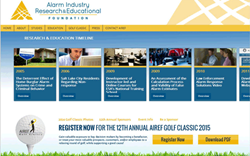 "I am very pleased with the updated AIREF website," said AIREF Chairman John Jennings. "The new interface makes it easy for security professionals, consumers and media to find industry research and education projects that AIREF has funded over the years."
Irving, Texas (PRWEB) August 07, 2014
The Electronic Security Association (ESA) recently re-launched its sister website, http://www.AIREF.org, to make it easier for consumers, security professionals, journalists and public safety officials to find research pertaining to the electronic security and life safety industry.
The website is the home of the Alarm Industry Research & Educational Foundation (AIREF), the research arm of the security industry. New components of the website include an interactive timeline that gives visitors a quick look at the initiatives accomplished by AIREF throughout the years and a click-through feature where users can get in-depth reports, executive summaries, press releases and security industry-related articles.
An improved navigation menu allows visitors to learn more about AIREF and its board of directors, browse projects by topic and keep up with AIREF news in the press. A fresh, modern look complements the website upgrades.
The new AIREF website also highlights one of the industry's most anticipated fundraising events, the AIREF Golf Classic. Information about the 2015 event is easy to find on the homepage and the simpler format allows visitors to quickly access information about tournament dates and location, sponsors, player registration form and photo highlights from the previous year.
"I am very pleased with the updated AIREF website," said AIREF Chairman John Jennings. "The new interface makes it easy for security professionals, consumers and media to find industry research and education projects that AIREF has funded over the years."
For more information, please visit the Alarm Industry Research & Educational Foundation online at http://www.AIREF.org.
ABOUT ESA
Established in 1948, the Electronic Security Association (ESA) is the largest trade association representing the electronic life safety and security industry. Member companies install, integrate and monitor intrusion and fire detection, video surveillance and electronic access control systems for commercial, residential, industrial and governmental clients. In cooperation with an alliance of chapter associations, ESA provides technical and management training, government advocacy and delivers information, advice, tools, and services that members use to grow their businesses and prosper. ESA may be reached at (888) 447-1689 or on the Web at http://www.ESAweb.org.
ABOUT AIREF
The Alarm Industry Research & Educational Foundation (AIREF) is a tax-exempt foundation serving the electronic security industry under the auspices of the Electronic Security Association (ESA). Through research and education, AIREF provides relevant information used by public safety officials, consumers and the industry to make communities across the nation safer. More information is available at http://www.AIREF.org.