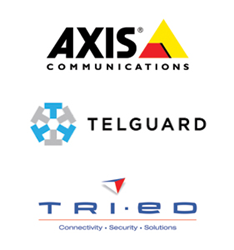 "We are honored that each of these industry-leading companies has decided to support ESA through the ESP program," said Knox. "Their belief in our members and our mission is what makes us proud to continue our relationship with them in the coming year."
Irving, Texas (PRWEB) March 18, 2014
The Electronic Security Association (ESA) is pleased to announce that Axis Communications, Telguard and Tri-Ed Distribution have agreed to support ESA as Gold-level Executive Strategic Partners (ESP) for 2014.
Available only to ESA associate members, the Executive Strategic Partnership program was established in 2008 to provide funding in order to support ESA programs that promote and enhance the industry. As Gold-level partners, the three companies will receive valuable and powerful exposure through all available media and several events, including the 2014 Electronic Security Expo (ESX) on June 22-26 in Nashville, Tenn.
ESA President John Knox said the participation of all three companies as Gold-level ESPs underscores their commitment to the association and to the industry.
"We are honored that each of these industry-leading companies has decided to support ESA through the ESP program," said Knox. "Their belief in our members and our mission is what makes us proud to continue our relationship with them in the coming year."
Axis Communications
As the market leader in network video, Axis is leading the way to a smarter, safer, more secure world – driving the shift from analog to digital video surveillance. Offering network video solutions for professional installations, Axis' products and solutions are based on an innovative, open technology platform. Axis has more than 1,400 dedicated employees in 40 locations around the world and cooperates with partners covering 179 countries.
"Axis is pleased to sign on as a Gold sponsor the coming year," said Steve Surfaro, security industry liaison of Axis Communications, Inc. "We are proud to support the efforts made by ESA on behalf of its members and the industry."
Telguard
Telguard cellular alarm communicators for 3G/4G networks reward security dealers with increased productivity, reduced maintenance and access to many revenue generating services for a low cost.
Combining devices, communications and alarm processing into a turn-key system, Telguard delivers solutions for monitoring intrusion and fire systems independent of a traditional landline. Additionally, Telguard cellular alarm communicators offer services like HomeControl interactive services, video verification and two-way voice support to increase RMR.
"ESA continues to provide direction and leadership for the security industry and we are glad to support their initiatives through our partnership as a Gold-level sponsor," said Shawn Welsh, VP of marketing and business development for Telular.
Tri-Ed Distribution
As North America's largest independent security distributor, Tri-Ed Distribution provides state-of-the art solutions from hundreds of the industry's leading manufacturers of CCTV, IP video, intrusion, access control, fire, sound, communications, structured cable, and home automation products. With 65 locations across North America, Tri-Ed offers personalized customer service, technical systems support, flexible credit terms, next day shipping, ongoing training programs and the industry's richest rewards program.
"Tri-Ed Distribution is pleased to commit to another year of sponsorship as a Gold-level contributor through ESA's Executive Strategic Partner program," said Pat Comunale, president and CEO for Tri-Ed. "We appreciate ESA's diligence in advancing the industry as a whole."
Companies interested in knowing more about the Executive Strategic Partnership program should contact ESA Vice President of Sales & Marketing Shannon Murphy at (888) 447-1689, extension 6835, or via e-mail at Shannon.Murphy(at)ESAweb(dot)org.
ABOUT ESA
Established in 1948, the Electronic Security Association (ESA) is the largest trade association representing the electronic life safety and security industry. Member companies install, integrate and monitor intrusion and fire detection, video surveillance and electronic access control systems for commercial, residential, industrial and governmental clients. In cooperation with an alliance of chapter associations, ESA provides technical and management training, government advocacy and delivers information, advice, tools, and services that members use to grow their businesses and prosper. ESA may be reached at (888) 447-1689 or on the Web at http://www.ESAweb.org.