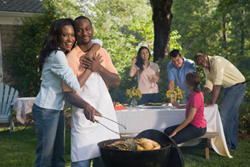 The FBI reports that burglaries typically increase in June, July and August. Many homes are seen as easy targets because homeowners tend to take vacations and spend more time outdoors.
Irving, Texas (PRWEB) June 03, 2014
The summer season has finally arrived. The smell of sunscreen lingers in the air, children are free from homework for the next couple of months and the warm weather provides perfect conditions for spending time outdoors with friends and family.
June is also Home Safety Month, so the Electronic Security Association (ESA), the largest trade association serving the security industry, hopes you'll review these safety tips to help keep yourself, and your family, safe.
Grill Safely
According to the National Fire Protection Association (NFPA), grilling is a major source of home fires during the summer months. Each year, there are nearly 8,600 home fires caused by gas, charcoal or solid-fueled grills. To ensure your cookout doesn't go up in flames, remember these tips.

Only light propane and charcoal grills in a well-ventilated outdoor area. All grills produce carbon monoxide, a tasteless and colorless gas that can be lethal when inhaled.
To prevent burns or accidents, keep children and pets at least three feet away from the grill.
Always read your grill's manual before using. Each grill is different and may have unique operating instructions.
If you smell gas while cooking, immediately move away from the grill and call the fire department. Do not attempt to move the grill. It is likely that there is a gas leak, which can be very dangerous.
If the flame on a propane grill goes out, immediately turn off the grill and the gas, leave the hood open and wait at least 15 minutes before re-lighting it. Propane is heavier than air and it takes longer for the gas to dissipate. An explosion could result if the grill is re-ignited too soon.
Hot time for burglars
You aren't the only one with a hectic summer schedule; burglars also tend to be busier during the warmer months. The FBI reports that burglaries typically increase in June, July and August. Many homes are seen as easy targets because homeowners tend to take vacations and spend more time outdoors. But you don't have to be a part of the statistic; here are a few ways to safeguard your valuables whether you're traveling far from home or just hanging out in the backyard.
Keep your whereabouts under wraps. Hold off on posting pictures and updating your status on social networking websites until you get home. Burglars are notorious for trolling these websites in search of information that can lead them to an empty home.
Discourage burglars with a monitored home security system. A recent study proved that security systems and surveillance equipment are effective deterrents against burglary.
Deny easy access to your home by setting your alarm and locking doors and windows anytime you exit your home.
Keep an eye on your home by enlisting help from technology. Enhanced security systems give you the power to set the alarm, lock doors, receive alerts and view live video all from your smart phone. You can find a trustworthy security company that is a member of ESA and has experience in enhanced security technology by visiting http://www.Alarm.org.
No matter what's on your agenda this summer, the safety of your family should always be on the top of your list. With these tips, you can spend quality time with your family and friends all summer long.
ABOUT ESA
Established in 1948, the Electronic Security Association (ESA) is the largest trade association representing the electronic life safety and security industry. Member companies install, integrate and monitor intrusion and fire detection, video surveillance and electronic access control systems for commercial, residential, industrial and governmental clients. In cooperation with an alliance of chapter associations, ESA provides technical and management training, government advocacy and delivers information, advice, tools, and services that members use to grow their businesses and prosper. ESA may be reached at (888) 447-1689 or on the Web at http://www.ESAweb.org.